Road to AIDS 2012 Tour Comes to D.C.
WI Staff | 11/9/2011, 12:45 p.m.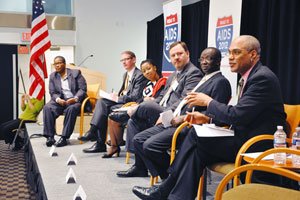 White House AIDS Chief Resigns
The Road to AIDS 2012, a nationwide tour seeking to engage communities in the White House's National HIV/AIDS Strategy (NHAS) and ensure voices are heard in the development of a domestic platform for next year's XIX International AIDS Conference, traveled straight to the District last week.
The event hit a curve, however, when on Nov. 3, White House AIDS czar and principal NHAS architect, Jeffery Crowley, announced his resignation as President Barack Obama's director of the Office of the National AIDS Policy and senior advisor on the Disability Domestic Policy Council.
"I've been there [at the White House] for three years and there's no great time to leave," said Crowley, a former senior research scholar at Georgetown University's Health Policy Institute. "I believe in President Obama as much as I ever have and I am committed to ensuring that he leaves the strongest legacy possible for implementing the national AIDS strategy. I would like to make an important contribution, just from a different vantage point."
In an email sent prior to his public announcement, Crowley wrote, "I am also grateful to the many members of the disability community with whom I have worked on issues related to health and long-term services and supports, civil rights, housing, and other issues." Crowley said he has no immediate future plans, but will leave his job officially at the end of this year.
Crowley's announcement did not seem to deter key messages at Thursday evening's town hall meeting. A. Toni Young, Road to AIDS 2012 project coordinator and executive director of the D.C.-based Community Education Group, praised Crowley's work and stressed there is continuing urgent need to rally around the issue of HIV/AIDS.
"HIV isn't over and what we have to do is have a conversation and that is what this [Road to AIDS 2012] is about," Young said. "We have broader health challenges and it's going to take all of us to turn this epidemic around."
Phil Wilson, founder and executive director of the Black AIDS Institute, underscored Young's sentiment.
"It's important, particularly for Black America, to know we are at a deciding moment. We have the tools to face the AIDS epidemic in America today and the question is how are those tools going to be applied and are we going to be left behind," said Wilson, who is also a member of the Presidential Advisory Council on HIV/AIDS (PACHA). "We need to be aware the epidemic is not over."
According to the District of Columbia's HIV/AIDS, Hepatitis, STD, and TB (HAHSTA) 2010 Annual Report, the District maintains severe epidemics of HIV/AIDS, STDs (Sexually Transmitted Diseases) and hepatitis C.
The overall prevalence of HIV remains 3.2 percent among D.C. adults and adolescents, above the World Health Organization definition of 1 percent for a generalized epidemic. HIV/AIDS continues to disproportionately impact Blacks, adults ages 30 to 59, and geographically in Wards 5, 6, 7 and 8, the report revealed.
Last month, the Road to AIDS 2012 began its town hall meetings in San Francisco, the first of 15 cities scheduled to take place leading up to the XIX International AIDS Conference (AIDS 2012). The biennial international AIDS conference is the premier gathering for those working in the field of HIV.