The Magic of Memory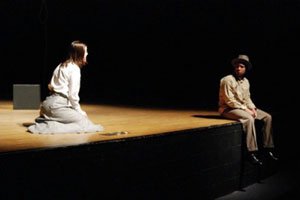 The dichotomy of discrimination and oppression is brought palpably to bear in the first full-staged production of Janet Langhart Cohen's play, "Anne & Emmett." It is her imagining of a meeting between 14-year-old Anne Frank, victim of the Nazi Holocaust during World II and Emmett Till, 14-year-old victim of a racist lynching in a small Mississippi town in l955.
The very idea of such a situation is fantastic enough, but actually creating the possibility is even more amazing. Langhart-Cohen has shown a spark of brilliance that invites one to experience the exposition of this story as she envisions it. The conceit on which she relies to assist her in creating this dynamic is that of "memory," a place where thoughts or concepts come to life and are played out.
Conceptually, one might initially imagine a sort of extravagant effort and flagrant theatricality to create "memory," (think elaborate dream sequences in countless movies and plays). However, it is the very simplicity of the production design that gives gravitas to the unfolding story relayed by these two young innocents. The set is at first deceptive and vague (as is memory) and the lighting and sound designs seem imprecise (as is memory). Once the action begins and we meet the characters it all begins to make unquestionable sense and almost hard to imagine being done any other way.
Anne and Emmett are introduced rather like "Dorothy's visit to Munchkin Land," sort of "dropped in" some unfamiliar and strange place. They question each other's presence in this unknown universe and their interaction begins their exploration of the circumstances of their lives and particularly of their deaths. Coming from completely different worlds, cultures and times in history seem to offer no reasonable way for these two young people to communicate. But it is precisely the art and effort of communication that Langhart-Cohen employs to unleash the drama and senseless tragedy of these two disparate lives.
The curiosity of their circumstance spurs them to begin a dialogue, which is at first introductory and informational--just getting to know one another. The more they exchange the more emerges about the comparisons of their lives and the distinctions. They share the fear of knowing their lives are in danger simply because they are different. They explore the anxiety of having to suppress their natural inclinations just to survive and they share the frustration of being young people, forced much too soon, to deal with the cruel indignities that life can present, again, because of being different.
The disparities we see are pointed out by Emmett that even though she is Jewish, in America, all Anne would have to do is a simple name change to be included among the white race. While Anne doesn't fully grasp Emmett's hesitancy to be more intimate in their exchange--the very reason that he was murdered. These moments are powerful and intense and the actors are fully up to the challenge of interpreting these dicey truths. Anne and Emmett contemplate this place called "memory" that has brought them together and together conclude that truth is timeless and memory fades and therefore their collaboration in this space has to be taken full advantage of so that their voices can be recognized and heeded.