Mother and Daughter Marine Marathon Experience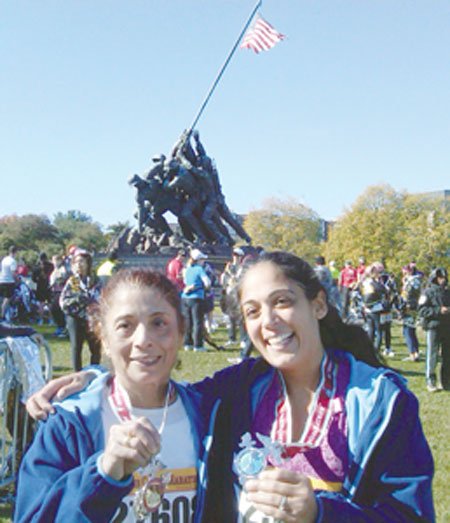 We hurdled over tattered sweatshirts, jogging pants, hats, and gloves, remnants of discarded layers from overheated runners, strewn across the course beyond the start line. We darted past the stench of urine of men relieving themselves in bushes along the road, while women waited in what seemed like mile-long "porta-potty" lines. The participants came in all shapes, sizes, ages, backgrounds, and levels of experience. There were over 20,000 people nationwide taking part in the race.
For my mom, 63, and me, 34, it all began with a grueling 8-week training program. We were novices preparing for our first marathon-the 36th Annual Marine Corps Marathon in Washington, DC on Sun., Oct.30, 2011. My mom, Ish Grover, was the motivating force that impelled me through the excruciating and time-consuming Sunday runs around the meandering, peaceful roads of Shady Side, Md. I typically hated those torturous runs (because they caused my legs to throb) yet simultaneously loved them because I had a chance to share those days with my mom, though I often trailed at least 500 feet behind her. She was my source of inspiration and encouragement along the way when all I wanted to do was quit during our coconut water breaks (our rest stop at Rennos' market in Shady Grove, Md.).
My mom works harder than anyone I know. She is dedicated and revels in the thrill of running. She has been running for over 20 years and never would have imagined that she would be able to run a marathon. The most she had ever run prior to our training was 10 miles. Running a marathon--26.2 miles--was something that she could only dream of, she told me. However, that Sunday, my mom made her dream a reality, and mine as well. I wanted the meaningful experience of running this race with my mom.
Together, we embarked onto the Marine Corps Marathon course and set off for our first marathon, bundled in our polar fleeces to protect us from the chilly October elements, slathered in tiger balm to alleviate the pain, and wrapped in ankle and knee supports to prevent further injury. It was particularly special that I had the opportunity to share such an important goal and accomplishment with my mother because she has always been a source of strength and support to me. The race exemplified the commitment and drive that we each shared. My mom guided me though our multiple long runs leading up to the 26.2-mile race and even more so on the day itself.
We did it. Our time was 6:21.57.We finished. We tackled our first marathon together as a mother-daughter team. I admire my mom for doing this for herself because she is so selfless. She has a tendency to "do" for others rather than "do" for herself. I am proud of every step she took. She managed to power through the cramps, the aching knees, and sore ankles. She was a true competitor. The journey was painful but it was ours, my moms and mine, together. And that is a bond we share--something that no one can take away--and we have big, heavy medallions to prove it! What a memorable experience.