Historic Coral Hills McDonald's Rebuilt
WI Staff | 11/13/2011, 10:13 p.m.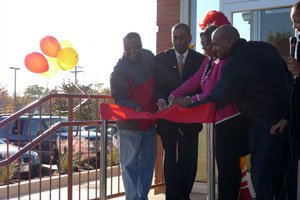 Prince George's Franchisees Reinvests in The Community and Rebuilds Coral Hills McDonald's
McDonald's is continuing its longtime commitment to their customers by enhancing its image through restaurant renovations and rebuilds, including a local restaurant in Prince George's County. Located at 4777 Marlboro Pike in Capitol Heights, MD in the Coral Hills Shopping Center, the restaurant is being relocated and rebuilt to provide a new modern location for the community.
The changes come as part of local franchisees, Isaac and Susan Green's plan to invest in the communities through updating several of their restaurants. This rebuild will serve to enhance Coral Hill customers' overall experience and advance customer service by providing quality food and beverages in a chic and modern restaurant environment.
"This community deserves a restaurant designed to provide a more contemporary and modern experience. It will have the same community appeal McDonald's has always been known for, but will give my customers a pristine environment to enjoy that experience in," said Isaac Green, Coral Hills McDonald's owner and operator.
McDonald's franchisee Isaac Green gives and District 7 Council Member, Karen R. Toles and County Executive Rushern L. Baker, III and behind the scenes look at his new restaurant in Temple Hills, MD. The McDonald's rebuild plan includes contemporizing interiors and exteriors by upgrading infrastructure, and enhacing restaurant capacity. Architecturally the improvements will include a defined and inviting entry into the restaurant, a more identifiable drive-thru and exterior landscaping that compliments the surrounding community. The interior utilizes a sophisticated color palette, plasma screen TVs and free Wi-Fi access.
The Coral Hills restaurant will be officially open for business on October 28, but is celebrating the official Grand Opening on Nov. 5. Customers of the original restaurant, located at 4857 Marlboro Pike, have noticed the new location being constructed down the road and are excited to see their new McDonald's open for business. The original restaurant is a 48 year old staple in the community, and the building is being donated to Prince George's County to be used for community support organizations. Green is excited that this rebuild will provide the opportunity to employ more crew and managers within his new restaurant. He notes, "We will be hiring 35 additional employees and 6 additional managers to staff this new location." He has been a leader in diversity employment and has a track record of commitment to employing members of the communities that his restaurants are located in.
The Coral Hills Grand Opening festivities will commence with an employee family night, which includes an employee cook-off for their families to come in and enjoy the very first McDonald's meals in the restaurant. The ribbon cutting, VIP reception and official Grand opening event will take place on Nov. 5 and includes a live radio broadcast with WKYS-FM. There will also be in-store promotions, giveaways and an appearance from Ronald McDonald himself.Prince George's County husband and wife team, Isaac and Susan Green, officially celebrate their grand opening of their restaurant located on 4777 Marlboro Pike in Temple Hills, MD.
Nationally McDonald's anticipates the completion of 600 remodels and approximately 200 rebuilds in 2011, this includes over 25 in the Greater Washington D.C. area. Approximately $30M is being committed to reimaging or rebuilding McDonald's locations in Prince George's County alone.
Mr. Green is personally planning to remodel several of the McDonald's restaurants he owns in Prince George's County as a continued commitment to providing his customers the premier McDonald's experience.