Discount Grocer ALDI Opens First-Ever D.C. Store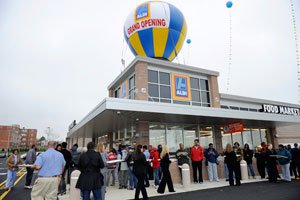 Thee recent opening of the new ALDI store in Northeast ensures that high quality, fresh food at affordable prices to are accessible to Ward 5 residents.
In addition, offificial say that ALDI's exclusive brands will allow shoppers to stretch their grocery dollars further.
"ALDI has been serving customers in the metro D.C. area for years, and we are thrilled to officially open our first store within the district," said Jeff Baehr, ALDI Frederick division vice president. "At ALDI, we believe that great quality shouldn't come at a high price; rather great quality should come with everyday low prices. We look forward to providing the Ward 5 community with fresh, affordable grocery options that, historically, have been hard to find."
In celebration of the new store and the company's commitment to its new community, ALDI, which officially opened on Nov., 11, will present the Ward 5 Warriors -- a community based youth organization designed to empower inner city kids through mentoring and athletics -- with a $5,000 donation to help sponsor their programming.
"We are excited to help support the Ward 5 Warriors in their efforts to bring unity to the community by providing positive outlets for local youth," said Baehr. "At ALDI, we strive to provide our communities with the best possible value, and look forward to working with an organization that adds value to the lives of our country's future leaders."
Customers can expect to find more than 1,400 of the most frequently purchased items sold under ALDI exclusive brands for prices up to 50 percent less than traditional supermarkets. A model of efficiency, ALDI eliminates overhead costs by offering smart, efficient practices, such as a cart deposit system, through which shoppers insert a quarter to release a cart and receive the quarter back upon the cart's return. Other cost-saving practices include a smaller store footprint, open carton displays and encouragement of customers to bring their own shopping bags.
ALDI also saves shoppers money by keeping stores open during prime shopping times. The D.C. location will be open from 9 a.m. to 8 p.m. Monday through Saturday, and from10 a.m. to 6 p.m. on Sunday. ALDI accepts cash, debit and EBT cards.
A grocery retailer that has grown without merger or acquisition, ALDI plans to open more than 80 stores in the United States in 2011.
{besps}aldi|inout=0|width=600|height=400{/besps}