Gray Cabinet Members to Sign Ethics Pledge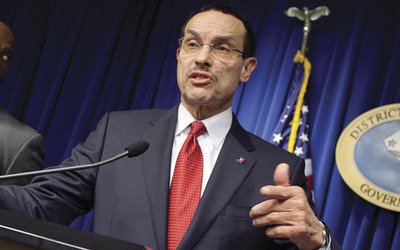 During their monthly meeting, members of Mayor Vincent C. Gray's Cabinet will sign an Ethics Pledge, vowing to uphold the mayor's commitment to the highest ethical standards by avoiding conflicts of interest, use of public resources for personal benefit and other violations of the public trust.
"Government employees are public servants and guardians of the public trust," Mayor Gray said. "This pledge outlines and underscores my administration's commitment to ethical and conscientious government."
* The pledge includes commitments that cabinet members will:
* Avoid misuse of office for personal gain or the benefit of friends and family members;
* Refrain from financial and representational conflicts of interest;
* Decline to receive gifts from those with business before the government;
* Safeguard government resources from misuse or personal use;
* Protect confidential non-public information from misuse;
* Disclose waste and illegal conduct by government officials when they witness it taking place; and
* Abide by "revolving-door" regulations restricting lobbying by former government officials.
The pledge keeps a commitment Gray first outlined in an Oct. 26 letter to Councilmember Muriel Bowser (D-Ward 4, in which he outlined the key principles he expects to see in any ethics-reform legislation the Council sends him to sign.
In that letter, the mayor noted: "We need clarity regarding the ethics standards that apply to District employees, who are currently subject to the District of Columbia Merit Personnel Act, the District of Columbia Campaign Finance Reform and Conflict of Interest Act, the Prohibition on Government Employee Engagement in Political Activity Act, the District Personnel Manual, the federal Hatch Act and federal conflict-of-interest statutes. These standards are complex, confusing and sometimes contradictory."