NUL Releases State of Urban Business Report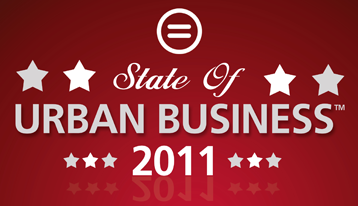 The National Urban League Policy Institute recently released the State of Urban Business 2011: "Metro Areas that Lead the Way," the first in a series focusing on minority business development. The report contains a ranking of the top metro areas conducive to black-owned businesses and makes recommendations for expanding this success nationwide.
Prepared by Urban League Council of Economic Advisors member, Lucy J. Reuben, PhD. and Urban League Vice President of Research Valerie Rawlston Wilson, PhD., the report found that the top areas for black-owned businesses are:
1. Washington-Arlington-Alexandria, DC-VA-MD-WV
2. Los Angeles-Long Beach-Santa Ana, CA
3. Tie between Chicago-Joliet-Naperville, IL-IN-WI and Detroit-Warren-Livonia, MI
4. Tie between Atlanta-Sandy Springs-Marietta, GA and Charlotte-Gastonia-Rock Hill, NC-SC
5. St. Louis, MO-IL
6. Dallas-Fort Worth-Arlington, TX
7. Cleveland-Elyria-Mentor, OH
8. New York-Northern New Jersey-Long Island, NY-NJ-PA
9. Philadelphia-Camden-Wilmington, PA-NJ-DE-MD
The list is not intended to be an exhaustive analysis or comparison of all U.S. metro areas. Rather, it identifies areas where black-owned businesses have a solid record of success, and highlights some of the reasons. The goal of the report is to offer guidance on how these success stories might be duplicated across the country.
NUL research found that cities with strong diversity supplier policies and which allow easy access to business-to-business and government contracts were the best environments for black-owned businesses.
Not surprisingly, NUL found that of the top areas for black-owned businesses, five included cities where the National Urban League operates Entrepreneurship Centers.
In addition, the New Market Tax credit strategic alliance between Stonehenge Community Development and the National Urban League formed in 2004 to stimulate the flow of investment capital in underserved communities, has led to the creation of more than 8,000 jobs through the deployment of $325.5 million in allocations.
The report revealed that the greatest weakness in African American entrepreneurship is not in starting a business, but rather in growing these businesses enough to create sustained and significant revenue. Inability to obtain credit remains more of an obstacle for African American business owners than for any other group," said Wilson.
Recommendations for growing and strengthening black-owned businesses include increasing the funding available for small business loans, raising the set-aside cap for government small business contracts, establishing robust procurement goals at all levels of government and encouraging support for private sector supplier diversity programs. The National Urban League will soon introduce a new Urban Empowerment Fund that, through its lending activity, will further strengthen black businesses and our communities.
We know that the growth of urban businesses can help alleviate the extraordinarily high levels of African-American unemployment which plague our communities. Despite the well-documented lack of access to capital that continues to inhibit them, these companies are a major source of jobs. Without those jobs, it is estimated that the ranks of unemployed African Americans may have risen by almost two-thirds.
The full report can be found online at http://www.iamempowered.com/soub/2011.
Also read a related article in the Nov. 17 edition of The Washington Informer.