Allen Chapel AME Church Breaks Ground for New Senior Housing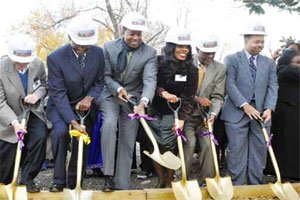 91 Units of Affordable Housing Coming to Southeast
A 91-unit affordable housing development for seniors will be built on Alabama Avenue in Southeast through a public-private partnership with Allen Chapel AME Church.
Following a highly spirited Sunday morning service, Rev. Michael E. Bell Sr., pastor, led a procession out of the sanctuary and across the street to an empty lot to break ground for the Alabama Avenue Senior Housing, 2499 Alabama Ave., SE, slated to be completed next summer.
"This project builds on the legacy of serving this community," Bell said. "It is allowing us to be on the leading frontier of economic development in this section of Southeast, D.C."
The D.C. Department of Housing and Community Development (DHCD) is one of the public sector partners that helped fund the project with $5 million from a community block grant.
"We are always looking for projects that are viable and feasible that benefit low to moderate income families trying to rebuild and strengthen their communities," DHCD Director John Hall said. "So this was a no brainer for DHCD."
Reverend Michael E. Bell, pastor, Allen Chapel AME Church in Southeast, thanks the development partners and members of the church for their help to bring affordable housing for seniors to Southeast./Photo by DR BarnesWard 8 Councilmember Marion Barry was applauded for his support of the project that faced a myriad of challenges over many years. He is credited for helping to secure a tax abatement on the property that helped clear the way for the new development.
"There's hope here; there's hope!" Barry chanted. "This development will be built in a neighborhood that needs help and hope."
Allen Chapel is one of a host of churches in the District that owns pockets of land prime for development. Enterprise Community Partners, an organization that provides development capital and expertise, has established a Faith-Based Development Initiative aimed at supporting the efforts of churches, like Allen Chapel, to create more affordable housing in the region.
In a 2005 study cited on the Enterprise website, Dr. Sam Marullo, former chair of Georgetown University's Sociology Department, found that 62 churches based in historic Anacostia owned 158 properties with an assessed value over $52 million. This is the case for churches all across the District, who may now access capital, technical support and expertise from Enterprise Community Partners. Similar projects are also underway in other neighborhoods.
The development is expected to address the area's growing need for affordable housing for low to moderate-income families. In the case of Allen Chapel, the project seeks to provide affordable housing to seniors age 62 and over.
Richard Burns, CEO of NHP Foundation, a non-profit investment company that supports housing projects for low and moderate income seniors, referenced a report that indicated that in the year 2020, 1 in 6 people in the U.S. will be over 65, up from 1 in 12 in 2002.
"In 2020, there will be 6 times as many seniors with unmet housing needs as are currently being assisted by rent assistant housing. All over the country there are seniors on long waiting lists waiting for subsidized and assisted housing," Burns said.
District Development Group is the leading developer of the project. Phinis Jones, principal of DDG, and a Ward 8 resident, is working with several churches, through Enterprise, that are developing land amassed over the years. "You have to have a special sensitivity to work with churches to develop their property," Jones said. "I am happy to say that I and my partner Andy Botticcelo have that sensitivity."
Prior to the groundbreaking, the congregation prayed, sang and applauded the efforts to bring this long talked about project into fruition.
They nodded approvingly as Burns said, "People need to be able to live in communities of their choice. Combining a creator of affordable housing with an emissary of the creator should make for great home."