Many Babies Born Too Soon In the District of Columbia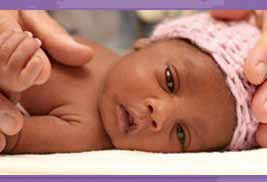 The U.S. Surgeon General and the March of Dimes, a nonprofit organization dedicated to healthy pregnancy and healthy babies, joined together recently to give the District of Columbia a report grade for its annual Premature Birth Card. With premature birth rates climbing above the national average, the District flunked.
"The March of Dimes report card issued a D because the rates of preterm births are really unacceptably high in the District," said Dr. Jennifer Howse, president of the March of Dimes. "The rate is over 14 percent -- that compares not well with the national average of 12.2 percent and certainly doesn't compare well with the overall March of Dimes goal of 9.6 percent. The factors primarily are higher rates of uninsurance amongst women of childbearing age that can't get into prenatal care if they don't have insurance."
The Surgeon General of the United States, Dr. Regina Benjamin, graded the District even lower than the March of Dimes did on its 2011 Premature Birth Card.
"Those numbers for D.C. are overall numbers. If you break it down by ethnic group, African-Americans are 19 percent compared to 10 percent for white and 13 percent for Hispanics." Benjamin said. "That's almost double and that's a tremendous number. If that were scored, it would be an F for failing grade."
Howse said the report card and grading system helps the March of Dimes reach its goal which is to prevent preterm births by working with consumers, doctors, hospitals, and health policy experts on a variety of strategies. Smoking cessation programs, ensuring better access to health care for women of childbearing age, preventing unnecessary caesarian sections and improving access to early prenatal care are all important approaches.
"We know that a half million babies are born preterm every year, babies who are born under 37 weeks have a higher chance of having cerebral palsy, vision, and lung problems, so we want to encourage everyone to go the full term which is 39 weeks," she said. "Things a mom can do are stop smoking and don't be around second hand smoke. She can get her prenatal care as early as possible and make sure she tries to go full-term. Don't have an early induction unless it's medically necessary -- a little bit more than nine months."
Although the District received failing grades, overall, the rate of premature births in the U.S. dropped to 12.2 percent in 2009 (latest available figures) from 12.8 percent in 2006. This means that more than 40,000 babies were spared the increased risk of lifelong health consequences of premature birth. According to the March of Dimes, premature birth is the leading cause of newborn death.
Howse said despite the daunting statistics there is some encouraging news concerning pre-term births in the city.
"Fewer women are smoking during pregnancy," she said. "Some hospitals in the District with 39-week programs are discouraging premature induction and early scheduling of c-section before 39 weeks."
World Prematurity Day is Nov. 17 and the March of Dimes and its global partners and parents from around the world are calling on governments to reduce death and disability caused by premature birth.
The goal is to recognize 13 million babies born prematurely every year. One million of those babies die as a result of being born prematurely. A premature birth is when a baby is born before 37 weeks of completed gestation.
The March of Dimes is asking everyone to change the status of premature births by adding a prematurity awareness message on their Facebook page. For more information, visit www.washingtoninformer.com.