'Money Matters' Debuts in D.C.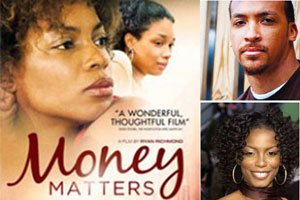 Ryan Richmond, a D.C.-born filmmaker celebrated the release of his debut film, Money Matters, at the E Street Cinema in Northwest last Thursday.
Family, friends and well-wishers packed the theatre on November 10, to watch a movie that was about five years in the making. Richmond admits that while he's not a part of Hollywood, he's always enjoyed telling stories.
As a cinematographer, Richmond has shot more than 60 music videos and films, and while cinematography allowed him to tell stories up to a point, he said he wanted more.
"Something was tugging on the other side. I wanted to create. It was a tough, long process," said Richmond during lunch at the Washington Plaza Hotel in Northwest. "The idea came while I was at film school. It was a feature screenplay which was shown at several festivals."
Richmond, a graduate of New York University's Tisch School of the Arts, said as he tried to get backing for his project, some production companies said his movie wasn't commercial enough, while PBS suggested that it was too commercial.
"Since production was my home, I decided to do it myself," he said.
Ryan Richmond is a Washing, D.C. born filmmakerRichmond, 32, was able to entice noted actress Aunjanue L. Ellis into the project which lent considerable heft to his fledgling endeavor. Ellis, 42, has been acting since the mid-'90s and has appeared in films and TV shows including Men of Honor, Cover, Girls Town, Undercover Brother, Ray, E Ring and The Mentalist.
"I play Pamela Matters, mother of Money, played by Terri Abney," Ellis said of her role. "She is a woman trying to find herself a little and a lot. She is parent and mother and trying to square both at the same time. We see what happens when she tries to balance both."
Richmond said the movie is a coming-of-age story of a young girl who through the course of the film begins to get a better sense of self, and she also discovers by accident the identity of her father.
Ellis, who was born in San Francisco and now lives in McComb, Miss., said she was attracted to this role because of the words.
"I try to befriend the role, look for something in common," she said softly. "I try to ask a lot of questions of the character. I think I'm kind of annoying in method. You try to live it someway but I didn't have to live this one because I know someone like her. I appropriate different pieces of characters of people I know. It's such a blessing to be able to do that."
"It was getting to know D.C. and getting steeped in this culture. Actors are always creative immigrants, and every movie and show they do is a new culture they're exploring. I want to acclimate myself, get steeped; that's what I like. I like not being myself for a while."
Despite its humble beginnings, Money Matters has made quite a splash.
It was the first short film to be nominated for the Independent Feature Project's Gordon Parks Award in 2001; the screenplay won the UrbanWorld Film Festival's HBO Screenplay Competition; it was selected by the Tribeca Film Festival's All-Access Program and it won the Audience Favorite Award at Roxbury International Film Festival. Closer to home, the movie got a standing ovation at the Congressional Black Caucus's Annual Legislative Conference film festival in September.