'Money Matters' Debuts in D.C.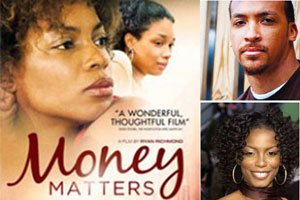 Richmond hopes for commercial success as well, and with his film "in the can," he said he's finally ready to take on Hollywood. He leaves for the West Coast at the end of this year.
At the premiere, during a Q&A after the movie, Richmond broke down as he spoke about the work he put into making his creation a reality.
"I wanted to show a very rough environment through young eyes," he said. "... I wanted it to be authentic, relevant. The key was to make it timeless."
"Today is a very big day. This is the day you envision when you come up with the idea. It's important for me to think that so many of you in this room made this possible. People devoted their talent, sweat and blood. It was important to share this day. I hope I did you proud. I hope it's something you're proud of."
Michelle Wright, whose voice can be heard on WKYS 93.9 FM, played a concerned teacher in the film. She was at the premiere, as were radio and TV legend Donnie Simpson, arts maven Peggy Cooper Cafritz, and former University of Maryland and NBA player Laron Profit.
Despite their pride at their contributions to this project, Ellis and Richmond acknowledged the challenges they face as they ply their craft. One issue discussed was the issue of rappers and other non-theatre personalities who are hired in the place of thespians who have studied and worked hard at the craft.
"It doesn't bother me about how people come into what they do," Ellis said. "Barbara Streisand, Diana Ross and Ethel Waters, there are countless examples of people who weren't actors. What bothers me is people getting jobs because of who they are. I have seen actors lose jobs to someone more famous. It has happened to me. People getting roles because of celebrity, that's a problem for me."
Ellis said she's "still figuring out her expectations versus Hollywood's."
"I've always been on a slow burn," said the Brown University graduate. "I got on, dropped off and got back on. It's never been steady but somehow, I've been able to pay the bills. There are a few women around getting a chance to do some great stuff. I say good for them. For me, those roles are sparse."
"There are women with high-profile careers like Salma Hayek who said she doesn't get the roles (she desires). The difficulty is that there are not a lot of roles and fewer people deciding who should get roles. People are very myopic about what sells and what appeals to their tastes. So I have started writing with an eye to where Ryan is. It took a lot of endurance and courage for him to do what he did."
Richmond, who said his immersion into the world of acting and film began when he was 11, agrees.
"The filmmaking art require[s] money. It's a huge hurdle ... across the board, it's difficult to make films. It's twice as hard for us. It's kind of a weird place. There is an increase of opportunities now because of technology and interest across the board."