Occupy Wall Street: An Idea Whose Time Has Come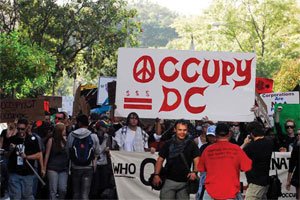 Nader, 77, said the rise of the movement is a seminal event "if it continues." He said he isn't surprised at the stunning rise of the movement because in an essay he penned nine months ago, he said that no one knows where the next spark might come from.
"It will succeed with resilience, stamina, creativity and numbers," said Nader during an interview. "It goes in cycles. Major change doesn't happen unless people are in the street ... it has to happen in reality ... they have to keep ahead of the curve."
One key to the movement's success will be how closely its members adhere to non-violence, he said. Also, Occupiers will have to avoid being provoked into violence and there is the likelihood that the movement will be infiltrated by spies and provocateurs.
There have been incidents that have blemished the movement. For example, last week in the District, Mayor Vincent Gray (D) and Police Chief Cathy Lanier warned that they would react harshly to what they said was a more aggressive and confrontational tack by some Occupy DC protestors. In Oakland, after shutting down the Port of Oakland, America's fifth-largest port, police arrested protestors who they said smashed windows in the downtown area, set fires and broke into a vacant building.
Nader, who has addressed the Occupiers three times at Freedom Plaza and McPherson Square in Northwest, cited statistics which he said illustrate the effect of corporate neglect and greed on ordinary working Americans.
Every year, 65,000 people die from the effects of air pollution. Fifty-eight thousand are killed by diseases contracted in the workplace; 100,000 people die from hospital neglect, an additional 100,000 people succumb to hospital-induced infections and 45,000 more lose their lives because they lack health insurance.
"The styles of violence we pay attention to is not linked to corporate neglect, cutting corners, greed and corporate malfeasance," said Nader. "... of 286 large corporations, including PEPCO, GE and Verizon, 77 paid no income taxes over the last three years and several got checks back. They keep spending on the military and Wall Street while cutting spending for children's programs, healthcare and other programs."
Ordinary Americans have railed against social inequality, the vast and unacceptable disparities between the rich and poor and corporate gluttony writ large.
They are deeply angered that while banks and a number of corporations sit on piles of money, the middle class and the poor face high unemployment, lack of access to quality healthcare, foreclosures and other social ills that have turned the American Dream into a veritable nightmare.
"This is a defining moment," Amy Goodman told Charlie Rose on a recent airing of his show. "We're seeing something we haven't seen before. It's something forming. It's hot. There is a sense of injustice, inequality and a lot of wealthy people agree with this. It cuts across the political spectrum."
Author Chris Hedges, who was a guest on that same program, agreed.
"This has been happening for some time but it was off the radar. The media was asleep at the switch ... this a reverse corporate coup d'etat," said Hedges, author of Death of the Liberal Class. "... This is a return to sanity. People are confronted with dead ideas ... it's the same stories around the world. The system is no longer (working). Small business is wacked by big business. (Big business has) no loyalty to the nation state. (This country) is hollowed out from the inside. We have a mafia economy and mafia politics."