"Mayhem" Can Be A Good Thing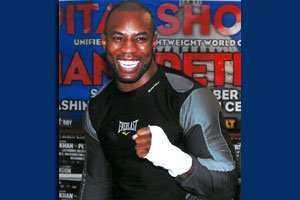 Will Seth Mitchell be the next Heavyweight Champion of the World?
On Saturday, December 10, 2011, HBO's World Championship Boxing will come to Washington, D.C. The fight card will take place at the Walter E. Washington Convention Center, and be televised live on HBO. In what promises to be an exciting evening of boxing, the co-feature bouts will each have a fighter from the D.C. area. Super Lightweight Champion Amir "King" Khan will face number one contender and Washington's own Lamont Peterson in the Unified Super Lightweight World Championship Bout. Also, undefeated heavyweight Seth "Mayhem" Mitchell, of Clinton, Maryland, will make his HBO debut against tough challenger Timur Ibragimov in the other co-featured bout.
Over the past couple of years, Seth "Mayhem" Mitchell has received an increased amount of public notoriety because if his tremendous success and his unorthodox introduction to the sport of boxing. As a pre-teen growing up in Virginia Beach, Virginia, Mitchell often participated in sports with kids who were significantly older. When Mitchell was 12 years old, Jeanette Mitchell, Seth's mother decided to relocate her family to Brandywine, Maryland. Upon his arrival in Brandywine, Mitchell attended Gwynn Park High School where he was an outstanding athlete. He was particularly passionate about football and basketball. At 6 feet tall, he felt that as a basketball player he might be vertically challenged. As a result, he decided to focus on football. During his freshman season, Mitchell was the starting middle linebacker on the varsity football team. His overwhelming talent began to draw attention from college scouts all across America. As Mitchell progressed through his junior and senior seasons he had over 200 tackles, 24 sacks, six interceptions, and led his team in defensive statistics.
Mitchell chose to play his college football at Michigan State University, after having received multiple scholarship offers from various NCAA Division 1 football programs. Mitchell played middle linebacker as a sophomore and was second on his team with 103 tackles. Also that year, he led Michigan State in Big Ten Conference play with 10.6 tackles per game. Against Ohio State he had a career-high 17 tackles. His teammate, Jason Teague gave him the nickname "Mayhem" because of the way Mitchell complicated matters for the opposing quarterbacks, and wreaked havoc on Big Ten offenses. In 2005, he was forced to give up football due to various knee injuries. Mitchell went on to graduate from Michigan State with a Bachelor of Arts Degree in Criminal Justice and Security Management.
On June 10th, 2006, an epiphany occurred for Mitchell. He was at home watching a boxing match involving Tom Zbikowski, a former Notre Dame football player, and Robert Bell of Akron, Ohio. The fight took place at the world famous Madison Square Garden. It was Zbikowski's professional debut. Forty-nine seconds into the bout, Zbikowski was declared the winner via technical knockout. As the former Notre Dame football player stood over his fallen opponent, a light bulb shined in the mind of Mitchell. He thought to himself, if Tom Zbikowski can do this, maybe it's something worth exploring. After having just witnessed a former college football player have success in the ring, Mitchell was inspired to learn more about the sport of boxing. Prior to that night, he had never thought of a career in boxing, and had certainly never stepped into a boxing ring. After a few months of soul searching, Mitchell realized that given his strong set of athletic skills, tremendous focus, and sound work ethic, he could have real success as a boxer. In the latter part of 2006, Mitchell embarked upon a ten fight amateur career. As an amateur, he accumulated an impressive record of nine wins and one loss, with nine knockouts.