Nov. 17: 'GASO DAY'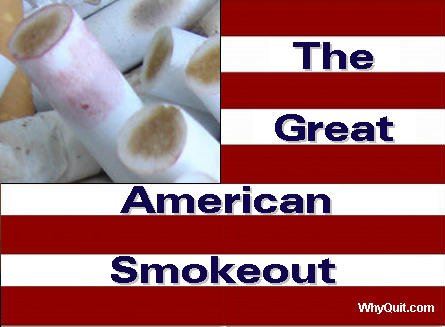 WASHINGTON, D.C. - LOOK TO QUIT? We know that putting down tobacco is a difficult task, so we will not have you go it alone! Nov. 17 has donned the name The Great American Smokeout (GASO) and it is a day dedicated to tobacco users. On this day we rally tobacco users and challenge them to quit smoking for an entire 24 hours and perhaps, ultimately, forever. Cigarette smoking is the leading cost of disease and death in the United States. It is the only product that if used as intended, will kill. More than 440,000 Americans prematurely die each year due to smoking related diseases, such as lung cancer, heart attacks, and emphysema. Now is the time to quit smoking - do it for yourself, your family, and your dear friends!
For The Great American Smokeout day, this year, Breathe DC and many of the partners of the DC Tobacco Free Coalition, an alliance of organizations and individuals working towards tobacco free environments, are out in the community to help people to quit. Some of the partners are at the college campuses, various housing developments, and other places in the District, disseminating quit smoking material, conducting carbon monoxide tests, and giving smokers the encouragement needed to help them quit smoking.
If you or anyone else you may know, needs that extra push to quit smoking, call the DC Quit Line at 1-800-QUIT-NOW (784-8669) today and change your life. Make the quitline your life line...it's free. The Quitline also offers free phone counseling, patches, and lozenges to help you or your love one quit smoking.
If you are an individual or organization interested in contributing to the life-saving efforts of the DC Tobacco Free Coalition, contact Charles Debnam at charles@breathedc.org for more information.