Gray Selects First African-American Woman as DCPS Athletic Director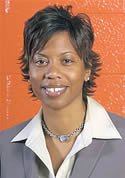 WASHINGTON, DC - Mayor Vincent Gray has been lauded in his selection of Stephanie Evans as the first black female to serve as athletic director for the city's public schools system.
Evans, who was appointed to the position on Nov. 15, is the fourth person to assume the job in the past three years. She is also the second female recently named to a position of prominence in the D.C. Interscholastic Athletic Association (DCIAA).
"I am both pleased and proud to welcome Stephanie Evans as the first woman to be named athletic director for the DC Public School system," City Council Chairman Brown said in a statement. "It's encouraging to see breakthrough accomplishments by women in environments that traditionally have been dominated by men. I commend Mayor Gray for this outstanding selection."
Brown added that Evans,39, brings to the position solid experience as a player, college basketball coach, teacher, and adviser.
"Her many years of supporting and guiding students bodes well for the District's student athletes," Brown said. "I have every confidence that she will be able to advance our school athletic programs to a new level of recognition, while ensuring that our students obtain the educational tools needed to become successful adults."
Gray said Evans, who is a 1990 graduate of Potomac (Md.) High School and former director of player development for the Holy Cross basketball team, was the best candidate for the job.