Denise Rolark Barnes Receives SHIRE Award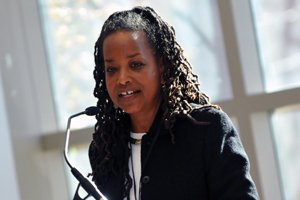 Denise Rolark Barnes, publisher of The Washington Informer, the District of Columbia's premier African-American newspaper, has been awarded a Summit Health Institute for Research and Education (SHIRE) Community Champion Award.
SHIRE recognized Ms. Rolark Barnes for her successful work supporting residents in underserved neighborhoods to take charge of their own health and advocate removing barriers to health and wellness for others.
Speaking during a luncheon at the Kellogg Conference Hotel at Gallaudet University in D.C. on Nov. 18, Ms. Rolark Barnes said SHIRE has become "a respected and reliable partner and resource for The Washington Informer."
"When you closely study SHIRE's mission--which is to engage with communities, government agencies, corporations, foundations, and other institutions by convening diverse individuals to take collective action-- it in every way reflects the mission of The Washington Informer," she said. Ms. Rolark Barnes spoke on the final day of SHIRE's two-day conference: "Building Community Engagement in Underserved Neighborhoods/The Path to Health Empowerment."
In addition to publishing a newspaper, Ms. Rolark Barnes oversees a website and host two public affairs television programs. One of the programs, "Let's Talk," brings together leading area journalists to discuss important topics facing the city and the nation. The other program, "Washington Informer News," deals with issues of the day that affect us all. Both programs can be seen on DCTV's channels 96 and 95. Recently, Ms. Rolark Barnes and her company established a partnership with Radio One. The monthly radio program will continue the focus of The Washington Informer by presenting positive "solution-based" journalism.
Not only is she a journalists and an entrepreneur, Ms. Rolark Barnes is a ubiquitous community activist. She heads Washington Informer Charities, which sponsors the annual Washington Informer Spelling Bee, as well as journalism internship programs, scholarships, and the annual MLK Peace Walk. She is president of the AARP-DC, and she serves on the boards of the United Black Fund, the Historical Society of Washington, D.C., and several other community organizations. Ms. Rolark Barnes is a member of Leadership Greater Washington.