Links Gather in D.C. for 65th Anniversary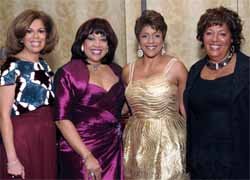 Event Honors Linda Johnson Rice
WASHINGTON, D. C. -- The Links, an international nonprofit service organization of professional women of color, hosted its 65th anniversary Nov. 11-13 in Washington, D.C. The gathering, which represented 274 Links chapters, attracted nearly 1,200 guests from across the country and the Bahamas.
The event included a rededication and ribbon cutting ceremony of The Links' newly renovated national headquarters, a state of the art LEED-certified building, located at 1200 Massachusetts Ave. in Northwest.
"The Links, Incorporated is proud to celebrate our 65 years of unwavering commitment to public service and the empowerment of our community," said Margot James Copeland, national Links president. "Our members continue to make a difference daily in communities across the globe and collectively helped raised over $2,000 in 2011 for transformational programs that will continue to carry our proud legacy of service forward in the years to come."
The Marriott Wardman Park was the backdrop for a black-tie reception and gala hosted by actors Tim Reid and Daphne Maxwell Reid, that also featured Grammy-award winning singer Will Downing.
The evening, which was attended by many persons of note, including Congresswoman Eddie Bernice Johnson (D-TX), Congressman James E. Clyburn (D-SC), Mayor Vincent Gray, Ambassador of the Republic of Kenya Elkana Odembo, Lynn Whitfield, and Desiree Rogers, marked the debut of the organization's highest honor bestowed upon an organization, The Links Medal, presented to Johnson Publishing Company Chairman Linda Johnson Rice on behalf of Ebony magazine.
The recipient of The Links Medal, designed by renowned sculptor and artist Ed Dwight, must have a legacy of challenging the status-quo, moving into unknown territories to create and establish permanence of position, and demonstration of making a significant and positive impact in the lives and culture of African-Americans and other persons of African ancestry.
"We at Ebony are honored and humbled to receive the inaugural Links Medal, and remain committed to our long tradition of working with The Links to inform and enrich lives," said Rice.