Redskins Lose Heartbreaker to Rival Cowboys 27-24 in OT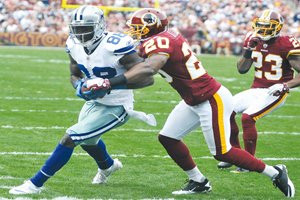 The effort was there, but the results have been the same for the past six weeks - another loss for the Washington Redskins and the second to their hated rivals, the Dallas Cowboys, this season.
The 27-24 overtime loss to the Cowboys at FedEx Field was the Redskins sixth straight this year, but there were some positives to take from the game, according to Redskins Head Coach Mike Shanahan.
"I was pleased with the effort from our guys," Shanahan said. "It's disappointing that we couldn't finish the job."
Redskins WR Brandon Banks (16) out-runs his opponent in the third quarter to return a punt and give the Redskins good field position./Photo by John E. De FreitasInjuries have depleted the Redskins in many ways, especially at the wide receiver position where the team played without Santana Moss, Leonard Hankerson and Niles Paul. Jabar Gaffney stepped into the starting role and had a nice game catching seven passes for 115 yards and a touchdown. Donte Stallworth, who was cut from the team a week ago, returned to the Redskins and caught the game-tying touchdown with 14 seconds to play in regulation.
Shanahan also was pleased with the fan's contribution as most of the 80,122 in attendance roared loudly for the home team.
This week the Redskins travel to Seattle to face the Seahawks (4-6) who have won two straight including a big victory over Baltimore two weeks ago. Seattle beat St. Louis 24-7. The Seahawks defense sacked Rams quarterback Sam Bradford five times and caused two fumbles.