Metropolitan AME Church Buries Time Capsule
11/23/2011, 12:30 a.m.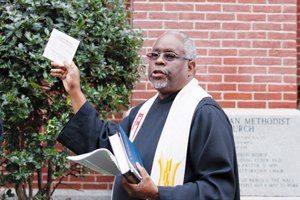 The Metropolitan AME Church buried the faith, hopes and dreams of many Sunday, Nov. 20, 2011, when it entombed 173 years of its history in a time capsule. The event highlighted the church's 173rd anniversary celebration.
"This is a celebration of the history of this church, which has been designated by the AME denomination as its 'National Cathedral of African Methodism,'" Rev. Dr. Ronald E. Braxton, the church's senior pastor, said "These items will be buried for the next 102 years, and the time capsule will be sealed by the Historic Society so that the contents will be protected from the elements. Of course, we won't be around to witness the next opening of the time capsule. The grandchildren of the children here today will be the ones to open this time capsule."
Some of the items buried in the time capsule on church grounds included: a DVD of "If these Walls Could Talk", a video history of Metropolitan AME Church; a photo of President Barack Obama and his family; a program from the 2007 visit of Archbishop Desmond Tutu; a program for Rosa Parks' funeral service at Metropolitan; and a cassette tape donated by Ernest G. Green, surviving member of the Little Rock Nine.
Shoes from former members will be buried in a time capsule commemorating Metropolitan AME Church's 170 year history. /Courtesy PhotosIn 1973, the church, located at 1518 M Street, NW in Washington DC, just three blocks from the White House, was added to the National Register of Historic Places for the District of Columbia. In 2011, the church was elevated to the status of National Treasure by the U. S. Department of the Interior, which prevents the building from ever being destroyed. In 2010, the National Trust for Historic Preservation named the church to its 2010 List of America's Most Endangered Historic Places.
Metropolitan was founded in 1838 in the District of Columbia. It is the oldest A.M.E. Church in the nation's capital. The church represents the 1870's merger of two A.M.E. congregations, Israel Bethel (1821) and Union Bethel (1838). Metropolitan served as a stop on the Underground Railroad.