Izegwire Leads Dunbar to Win Over Coolidge in Turkey Bowl
Ed Hill | 11/28/2011, 12:49 p.m.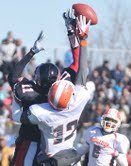 Olu Izegwire put on a brilliant all-around performance, scoring three touchdowns to lead Dunbar to a 33-21 win over Coolidge in the 42nd Annual Turkey Bowl at Eastern Senior High School.
A 5-10, 190-pound senior running back, Izegwire was voted Game MVP after rushing for 143 yards and a TD, catching a touchdown pass and adding a punt return for a score for good measure.
"I knew I had to step up as the team captain and make some big plays," said Izegwire. "We lost in the championship last year (to H.D. Woodson) so our goal was to come out and make sure that we did not let that happen again. This was a team win because we have been on a mission all season."
The Crimson Tide (8-2) faced several challenges this season. First longtime successful Coach Craig Jeffries stepped down to take a college coaching job. Then the program was cited for some violations early in the season, resulting in the succeeding head coach being dismissed and the team forfeiting a league game. Finally, Willie Bennett, a Dunbar alum who played at Howard University, was named interim coach.
"This is a great feeling for me," said Bennett. "To accomplish that after what the team has gone through is truly a lesson in overcoming adversity."
The Colts (8-3) got on the board early when senior quarterback Femi Bamiro engineered an 81-yard drive that he capped off with a 30-yard pass to senior wide receiver Felonte Misher.
Dunbar answered with a drive of its own, an eight-play, 80-yard masterpiece that Izegwire finished off with a 9-yard TD pass from Lamuel Matthews.
After the Crimson Tide held the Colts on downs on the ensuing possession, Izegwire struck again, this time on 71-yard punt return. The PAT failed, but Dunbar led, 13-7 at the end of the first quarter.
The Colts got even when Charles Gaines returned an errant Matthews pass 67 yards for a score. This started a buzz among the overflow crowd that this could perhaps be a replay of the 43-42 overtime thriller that the two teams played less than three weeks ago with Dunbar coming out on top.
But the Crimson Tide made a mini statement just before the half when Matthews tossed his second TD pass, this one a 28-yard strike to 6-5 senior tight end Maxie Stevens. The two-point conversion made it 21-13 at the intermission.
Bouyed by its momentum, Dunbar came out of the locker room and maintained control when Matthews threw his third TD pass of the game, this one from 23 yards to his brother, sophomore Delonte Matthews.
With a two score lead, Dunbar made sure it just a little tougher for Coolidge when Izegwire scored on 13-yard scamper late in the third quarter to make it 33-13.
From there, the Crimson Tide shut down the Colts vaunted passing attack, allowing only a late 6-yard TD pass from backup quarterback Darrius Taylor to Misher, who scored his second TD of the game. Dunbar forced five Coolidge turnovers and limited them to 45 yards rushing on 24 attempts. It must be noted that Coolidge played without the services of its outstanding running back Stacy Lipkins, who was injured in the first game and did not suit up for this game.