Federal Cuts Would be 'Critical Blow' to Schools
Nnpa | 11/29/2011, 1:16 p.m.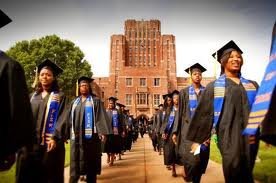 A coalition of more than 150 black colleges and universities - including three in the Atlanta University Center - are fighting to persuade Congress and its deficit-reducing "Super Committee" not to cut $85 million or more in federal funding for the colleges and their students.
The coalition, which collectively represents the 105 Historically Black Colleges and Universities (HBCUs) and 50 Predominantly Black Institutions (PBIs), are fighting proposals that will cut federal funds to HBCUs by $85 million or more and would zero out support for PBIs.
The proposed funding cuts would come on top of $30 million in cuts already made in HBCU funding, officials say - a move that would devastate black colleges nationwide.
"The colleges that would have to absorb these cuts serve students who employers are counting on as the next generation of engineers, scientists, teachers, doctors and nurses," said Michael L. Lomax, UNCF president and CEO. "Their education is being threatened at the worst possible time - in the midst of an economic downturn that is already making it hard for them to stay in school and graduate."
Administrators at Clark-Atlanta University, Morehouse College and Spelman College agree.
"We provide unparalleled access to students from historically disenfranchised, economically disadvantaged sectors of the population and transform their paths to leadership in diverse arenas," said Clark Atlanta University President Carlton E. Brown.
"The drastic reduction of Title III funding - totaling nearly $33 million in Georgia - would essentially dismantle critical elements of the infrastructure through which we have successfully completed this mission.
"In addition," Brown added, "a reduction also would have significant, injurious impact on local economies statewide." Morehouse College President Robert M. Franklin agreed.
"Morehouse, like many HBCUs and PBIs, is committed to closing the gap of students who are prepared to go into the fields of science, technology, engineering and math," Franklin said.
"Reducing federal funding to organizations like Morehouse and others would deliver a critical blow to an entire population of deserving students who could go on to become doctors, scientists, researchers and educators, leaving them with no higher education alternatives," he said. "And that would be a national tragedy."
Spelman College President Beverly Daniel Tatum said the federal funding "is essential to sustaining and enhancing the quality of HBCUs, and aids institutions like Spelman College to meet national challenges associated with global competitiveness, job creation, and changing demographics."
"As a nation we need to sustain this kind of investment," she said, "not undermine it when we need it most."
The coalition - coordinated by the National Association for Equal Opportunity in Higher Education (NAFEO), the Thurgood Marshall College Fund (TMCF), and the United Negro College Fund (UNCF) - seeks to rally students, alumni, faculty, staff, administrators and all supporters of HBCUs and PBIs to petition Congress not to cut the deficit by disinvesting in higher education.
"Cutting federal support for HBCUs would shoot an already-weak economy in the foot," said TMCF President and CEO, Johnny C. Taylor, Jr.
"In addition to the students they educate, they impact more than 180,000 jobs, including professors, counselors, staff members and others," he added. "Local businesses and national companies depend on the money that the colleges, their employees, and students spend. Their total economic impact is estimated at over $13 billion."
NAFEO President and CEO Lezli Baskerville said U.S. presidents and the Congress historically have made funding HBCUs a national priority, understanding that HBCUs and PBIs are critical to stimulating the economy, preparing excellent, diverse, workers, putting Americans back to work, and meeting the human services needs of traditionally underserved communities.
"HBCUs are great national resources of leadership in the sciences, technology, engineering, mathematics, education, health and the environment. They contain costs at a time when the costs of college are increasingly beyond the reach of the masses," Baskerville said.
"It would be disconcerting if Congress or the Super Committee decides to reduce the deficit without raising revenues and by cutting funding for HBCUs and PBIs, the primary incubators of diverse human capital to make the nation thrive."