Evans Assumes Helm at DC Schools' Athletic Department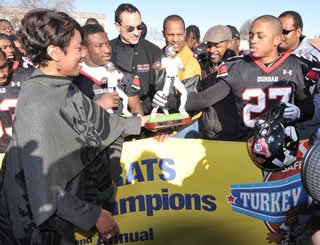 Stephanie Evans is content to let others worry about the importance of her being District of Columbia Public Schools' (DCPS) first black female athletic director as she assesses the myriad challenges and plots a new course for the department.
As the landscape of schools and the teaching environment undergoes steady change, athletics remains an integral part of the school curriculum, Evans said during a pre-Thanksgiving interview.
"Athletics is extremely important to the overall educational process," she said. "It promotes social development, hard work and discipline."
And she would know.
Evans, 39, has a rich sports background that includes playing volleyball, basketball, indoor and outdoor track, baseball and cross country at the high school and college levels. She gained prominence as a point guard at Potomac High School in Potomac, Md., and Evans also played point guard while at Bowie State University where she secured a bachelor's in Psychologyand a master's degree in Counseling Psychology. Of all the sports she played, Evans said, basketball was definitely her passion. But her playing days are long gone, she added.
She brings 27 years of experience as a basketball player and college coach. Evans served as head coach of women's basketball at the University of the District of Columbia, Kentucky State University (KSU) and Virginia Union. She helped her KSU team to its first-ever at-large berth in the NCAA Division II tournament. Most recently, Evans served as the Head of Player Development for the women's basketball program at the Academy of the Holy Cross in Kensington, Md., where she was responsible for developing the women's basketball program.
Mayor Vincent C. Gray (D), described Evans as "someone who is going to continue to take us forward in the areas of athletics and academics ... She was the best candidate, period. Just like (Coolidge High School Football Coach) Natalie Randolph, she has demonstrated she's the best coach irrespective of gender."
Schools' Chancellor Kaya Henderson, 41, chose Evans for her background which includes responsibilities at the collegiate level of budget management, recruiting, staff supervision, fundraising, scheduling, and academic advisement.
"This is a very exciting day," Henderson said at a Nov. 15 press conference at Eastern High School announcing Evans' selection."...We have found a leader after a painstaking search. After interviewing 65 candidates for the role, we have been able to find a leader that we think can restore DCPS' athletics programs to its former glory. Stephanie has over 27 years experience as a player and a coach and her background in psychology has allowed her to enrich the educational experiences of the diverse student-athletes she has coached, both on and off the playing field."
Henderson reiterated Evans' belief that athletics plays a vital role in a child's overall education in remarks offered at the high school located in Northeast.
"... In order to ensure that we have great schools, we need more than academics," she said. "We need the arts, we need athletics, we need technology and for many of our students, athletics is the hook for them. It's the thing that makes them come to school, it's the thing that keeps their grade point average up, (and) it's the thing that keeps them interested. It teaches them teamwork and perseverance and discipline and a lot of the other qualities that are going to make them successful in life."