Evans Assumes Helm at DC Schools' Athletic Department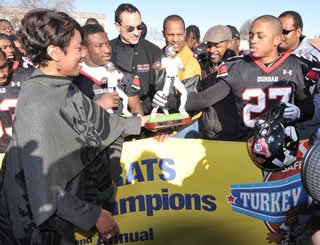 Henderson acknowledges the problems the athletic department has endured. This includes turnover at the top, with Evans being the fourth athletic director in three years. In addition, the department has been plagued with eligibility, scheduling and other issues which have called into question the viability of the department's leadership.
"We haven't provided the very best that we can for our students," Henderson said. "We know that leadership matters. It is incredibly important for the success of our athletics program so I'm excited to introduce our new Athletic Director Stephanie Evans. We wanted to kick it up a notch in terms of what we offer in our athletics programs."
Evans takes over responsibility for the athletics programs in 111 of DCPS' 142 schools in grades four through 12.
Transitioning from the court to administration seemed to be a logical progression, she said.
"I thought it was an excellent opportunity to expand my career to athletics administration," Evans explained. The DCIAA (D.C. Interscholastic Athletic Association) has a rich tradition. I grew up here and saw the rich legacy."
Evans boasts local roots and local ties.
"I born in Southeast D.C., and ... I was raised in Oxon Hill," she said.
Much is being made of the fact that she's a woman making a foray into what has essentially been a man's world.
"I haven't really thought about that," Evans said. "I think if it serves as an inspiration to young women in the area that's awesome. (But) it's a difficult job ahead."
"I want to look at eligibility which has been an ongoing issue. And I also want to makes sure we field teams so that we don't miss games. We're going to enforce the rules, strengthen Title IX programs and grow club sports." wi