New Solar-Powered House Draw Crowds
Khalid Naji | 10/3/2011, 6:38 a.m.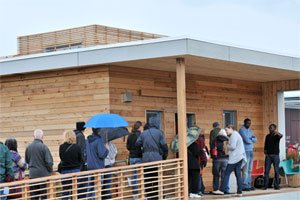 The U.S. Department of Energy Solar Decathlon was a big hit over the past week as collegiate teams, as far away as New Zealand, descended the grounds of West Potomac Park to design, build and operate solar-powered houses that are cost-effective, energy-efficient, and attractive.
This year's winner was the University of Maryland's house named WaterShed. The house is a solar-powered home comprised of systems that interact with each other and the environment. The house harvests, recycles and reuses water and produces resources with the water it captures.
The biggest winner of this year's event is a Deanwood resident, a single mother of three boys, who will be moving into an Empowerhouse. The Empowerhouse is an affordable, net-zero house, which means the owner will never receive an electric bill.