Tougher Stances Against Bullying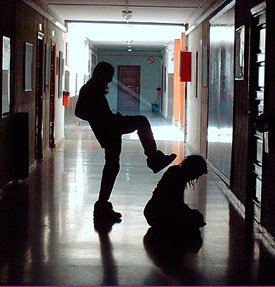 October is national anti-bullying month, and prevention advocates have joined forces to spread vital messages to students, parents and teachers as well as elected officials and law enforcment officers, surrounding the effects of bullying.
Last month, one of the worst cases of school bullying involved Jamey Rodemeyer,14, of New York, who committed suicide after being repeatedly harassed about being openly gay. While the youth's death has sparked world-wide outrage, Rodemeyer's parents' actions (in the wake of his untimely demise) have resulted in state legislation that proposes to end Internet bullying.
Every day, more than 160,000 students skip school from fear of being attacked or intimidated by their aggressive peers. According to reports, bullied youth are more likely to develop bouts of depression and anxiety disorders, which doctors contend can extend a lifetime.
"When kids are bullied, they really remember it," Dr. Barry Garfinel, child and adolescent psychiatrist at the Center for Developmental Psychopharmacology in Minneapolis, said in an interview. "It results in this excessive caution and fear they can carry with them for the rest of their lives. Rather than being excited about life, they are burdened with this anxiety that there are people who will hurt them emotionally and even physically."
The District of Columbia recently hosted an anti-bullying conference that featured Health and Human Services Secretary Kathleen Sebelius as keynote speaker.
According to Sebelius, "no child is born a bully [as] they learn the behavior from adults." Sebelius also said in remarks during the second annual Federal Partners in Bullying Prevention Summit that bullying is physical and emotional abuse that can damage a child for life.
"Students who are bullied are more likely to struggle in school -- they are more likely to skip class. They are more likely to abuse drugs and alcohol. They are more likely to be depressed and be at higher risk of suicide," Sebelius said. "For youth, being bullied means the constant terror of worrying about when you are going to be picked on next."
Julia Schwartz, a project coordinator for the D.C. Center for the Lesbian, Gay, Bisexual and Transgender (LGBT) Community, told TheWashington Informer that her organization is currently working to get its "Bullying and Intimidation Prevention Act" passed.
But in the meantime, to help eradicate bullying among students in the District of Columbia Public Schools (DCPS) system, Schwartz said the Center has launched a campaign which places safety kits in middle and high schools.
"The Safe Space kit contains tools needed to make classrooms safer," Schwartz said. "The kits, which our Center will purchase for any DCPS student who wants one, include posters and a 42-page guide for students that educates them on strategies and support, as well as on how to deal with biases and having respect for all students."
To acquire a Safe Space Kit call the DC Center for the LGBT Center, 202- 682-2245. To learn more about dealing with and preventing bullying, visit www.stopbullying.gov.