Black Real Estate Group, HUD Forge Partnership to Fight Discrimination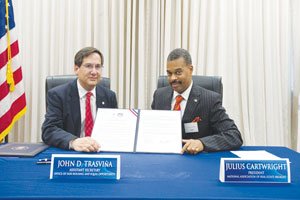 Julian Cartwright has been fighting discrimination in housing in his many years as a real estate professional in Ohio. Isabelle Williams has been helping to provide housing for people in Pennsylvania and then the Washington metropolitan area.
That's why they both were among those wearing big smiles recently when the National Association of Real Estate Brokers (NAREB), the African-American group founded in 1947, and the U.S. Department of Housing and Urban Development (HUD) announced a new partnership to work together to promote fair housing in minority communities across the country.
Cartwright, NAREB president, and John Trasvina, HUD Assistant Secretary for Fair Housing and Equal Opportunity, jointly signed a memorandum of understanding detailing the partnership at HUD headquarters in the District.
"I want this to be a very valuable and lively partnership ... it's taken time to get this done and done right," said Trasvina, in his remarks at the signing of the memorandum.
"As we move forward on this partnership, we have turned to, frankly the conscience of the industry, your association. Similarly, we have partnerships with the national association of Hispanic real estate professionals and the Asian American real estate association. As members of minority communities not only every time you do your work you are making a difference to your client, African American or non-African American."
Trasvina's remarks to a full room of real estate professionals and HUD officials were followed by comments from Cartwright, who said, "I echo your remarks in terms of our organization being the cornerstone of democracy in housing and fair housing opportunities for more than 64 years. We were founded and grounded on the basis of that as a trade association. Many of our members have been impacted and have been affected over the years by some various cases of some form of discrimination, so we understand it all too well."
The memorandum said the two organizations will "work together to inform public and private industry members and consumers in African American and other minority communities about their fair housing and equal opportunity rights and responsibilities and how to recognize and report discriminatory sales, rental, and lending practices and related government contracting discrimination."
"Actual victims" of discrimination
The HUD-NAREB memorandum signed Sept. 21 points out that the Fair Housing Act was signed into law by former President Lyndon Johnson a week after the assassination of Dr. Martin Luther King Jr. and still represents the unfinished legacy of Dr. King's full vision of equality for all Americans. It also says that a HUD 2000 discrimination study found that "African Americans experience discrimination roughly one out of every five times they inquire about a home for sale" and that even today HUD and its partner agencies receive more than 10,000 complaints each year alleging some form of discrimination with more than a quarter of those alleging discrimination against blacks.
"As being actual victims of some of the incidents that have taken place (whether) rental or sale, we have experienced that," said Cartwright. "We make up a broad discipline as it relates to property managers, we interact with rentals as well as sales practitioners and loan officers who are all involved in this process. So we are very ecstatic about this opportunity, we're glad that we're reconnecting the relationship and we are looking forward to doing great things with you guys."
Williams, NAREB Washington chapter president since 2009, who said she was first licensed in Pennsylvania in the 1970s and started practicing in this area in 1989, said the MOU is important "because it affects all of us across the country.
"Back in the 90's there was a relationship with HUD and we had literature, so now with our new president, he is basically reinventing the whole situation," said Williams. "It's wonderful because we'll have materials to give to people as we go about educating them with their home selling, home buying, home maintenance they'll have materials to give to us locally and nationally to our chapters."