Green Mixed-Use Project to Bring Jobs, Upscale Housing to Prince George's County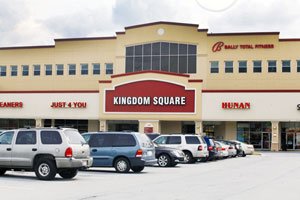 A group of local religious leaders, business owners and developers met recently with Rep. Donna Edwards (D-Md.) to discuss ways to support the Gateway at Kingdom Square project with tenancy and government funding.
Gateway at Kingdom Square is a redevelopment plan for Kingdom Square Mall in Capitol Heights, Maryland, and proponents said the project will bring 2,300 jobs and more than 700 upscale residences over the next 15 years. Kingdom Square Mall, located at 9195 Central Ave., was formerly called Hampton Mall until 2005, when The Sanctuary -- a Baptist church -- purchased the property.
"Our commitment toward the people [living in Prince George's County] and church brings the community together to recycle dollars [and keep money in the county]," said the Rev. Anthony G. Maclin, pastor of The Sanctuary at Kingdom Square. "Hopefully we can also have an impact on poverty and unemployment with this project."
Currently, the mall is comprised of a hodgepodge of businesses that include Home Depot, Staples, Bally's Fitness, and Family Dollar as well as a collection of restaurants and a hotel that are anchored by the Sanctuary. Plans are on the table to overhaul the 24 acres and create a 1.7 million square-ft. Leadership in Energy & Environmental Design (LEED)-certified, mixed use development, boasting mid-market luxury residences, retail space, medical offices, and 150-room hotel.
"It's a really smart project. I like the idea of combining what you need to do here with jobs," Edwards said after viewing a presentation.
Among some of the green features at Kingdom Square is open space at the center of the site and green roofs above each of the parking structures.
"We are building green roofs, solar power generating systems, systems to recycle and re-use storm-water, and electric car charging stations," said Brandon Bellamy, managing partner for Velocity Capital -- a real estate development and investment firm serving as a co-developer on the project.
The development will place special emphasis on public recreational uses which will include tree-lined streets and walking and jogging trails. The new construction will also introduce five new buildings to the site -- four of which will be more than 70 feet in height, transforming the development into a landmark project.
Wanda Childs, owner of Blessed 24:7 gift shop, said her store has been at Kingdom Square Mall for three years. Childs said a meeting between store owners and mall management about the proposed project took place a year ago. "We viewed a virtual tour of the project," she said. "It's awesome and I am looking forward to it."
Bellamy said existing tenants like Childs will be transitioned into the new development, creating more opportunities for such businesses.
The first phase of the project's groundbreaking is expected in 2012, and according to Bellamy, the balance of the project will come on-line progressively, over the next six to seven years, "market conditions permitting."
Bellamy added that the meeting last week with Edwards shows that her support is key to the success of the project.
"The development is in Rep. Edward's district and we wanted to help her to understand the level of job creation that can happen when you think outside the box," Bellamy said. "As we understand it, the federal government is looking for ideas to spur job growth and job creation. This project for example will easily create more than 2,300 jobs."