Sharpton: Obama Critics Backed Clinton in 2008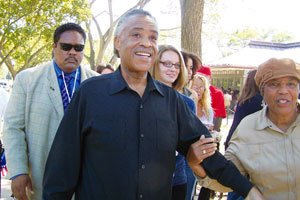 WASHINGTON (AP) - The Rev. Al Sharpton said he will lead a march in Washington this month in support of President Barack Obama's jobs plan and he dismissed blacks who criticize Obama over high black unemployment as having backed Hillary Rodham Clinton in 2008.
As Sharpton announced plans last Wednesday for the Oct. 15 March for Jobs and Justice, he was asked whether there is a double standard in failing to hold President Obama accountable for joblessness among blacks. The leader of the Congressional Black Caucus, Rep. Emanuel Cleaver, D-Mo., has said there is and had President Bill Clinton failed to do the same, black leaders would have marched on the White House.
The double standard, Sharpton said, is that most black politicians who publicly criticize President Obama did not initially back his 2008 presidential bid - they supported Hillary Clinton, who is now secretary of state.
"We did march when (Bill) Clinton was president. I led the march on racial profiling. They weren't in the march, so maybe the reason they didn't think nobody marched on Clinton was because they missed it," Sharpton said.
Although Bill Clinton has been referred to as the first black president, he passed bills that hurt the black community, Sharpton said, such as the Omnibus Crime Bill. Sharpton added that some are blaming that measure for the Georgia execution of Troy Davis because the law limited appeals in death row cases.
Welfare reform, the North American Free Trade Agreement (NAFTA), the General Agreement on Tariffs and Trade (GATT) also passed during Clinton's presidency and he failed to move an anti-racial profiling bill through Congress, Sharpton said.
"There is no bill that President Obama has proposed that is against the black community," and the only jobs bill on the table is Obama's."
The Oct. 15 March for Jobs and Justice was originally planned to coincide with the dedication of the Martin Luther King Jr. memorial on the National Mall. Hurricane Irene forced their postponement.
Sharpton said the rally near the Lincoln Memorial and the march to the King Memorial is a response to Obama's call in his speech to the Congressional Black Caucus to "put on your marching shoes." The King Memorial dedication is scheduled for Oct. 16 and President Obama plans to speak at the event.
"The president ... said it is time to start marching again," Sharpton said. "Well, those feet will be marching Oct. 15."