Students Run Capital One Branch at Parkdale High School
Khalid Naji | 10/5/2011, 9:24 p.m.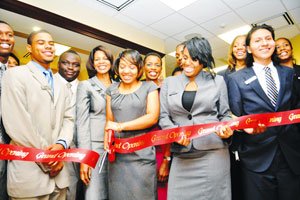 A group of enterprising high school seniors in Prince George's County are taking matters into their own hands when it comes to money management.
As managers of a Capital One Bank branch at Parkdale High School in Riverdale, the students were joined on Oct. 3 by local and state officials in celebrating the grand opening of their on-campus facility.
The full-service student-run branch employs 10 student bankers and is the first one of its kind in the Greater Washington D.C. region.
"The administration [of Prince George's County Public Schools], applauds this commitment to financial education, and I commend the students at Parkdale High School for their efforts to prepare themselves for their financial futures," said schools superintendent, Dr. William Hite Jr.
The in-school branch operates three days a week for approximately 3.5 hours each day. In preparation for their venture into the business management arena, members of the student staff also worked during the summer at Capital One as tellers and customer service representatives.
In their current capacities, students are paid up to $12 an hour while garnering first-hand knowledge and experience operating a real bank. Under guidance of Capital One associates, they are responsible for all aspects of the branch's operations, offering savings accounts and other services exclusively to their fellow students, teachers and administrators.
The young bankers will also teach their peers the importance of simple money management skills such as budgeting and saving. In addition, through partnerships with local colleges and universities, the students will receive higher education and career preparatory experiences.
Michael Pugh, Prince George's County Market president for Capital One, said that by working with the bank's partners at Parkdale, the goal is to bring an "effective and sustainable" financial education program to the county.
"We recognize that now, more than ever, financial literacy, as well as fiscal management and responsibility are key to building blocks to success not just for our students but for us all," Pugh said. "Through our investment in financial education, we hope to lay the groundwork that will allow our student bankers, their classmates and the broader community to benefit."
The Parkdale branch, which will receive ongoing mentorship from Capital One bankers, has already impacted the lives of its young participants.
"I have opened my eyes and realized that education plays a huge role in our lives," said student banker Bladmir Martinez. "Before this program I wasn't really considering college, but now that has changed."
Meanwhile, Capital One has been operating three other in-school bank branches since 2007. One is located at the Theodore Roosevelt Campus in the Bronx . The others are in Newark, New Jersey at West Side High School, and the Thurgood Marshall Academy in Harlem.