Tom Joyner Health Event A Success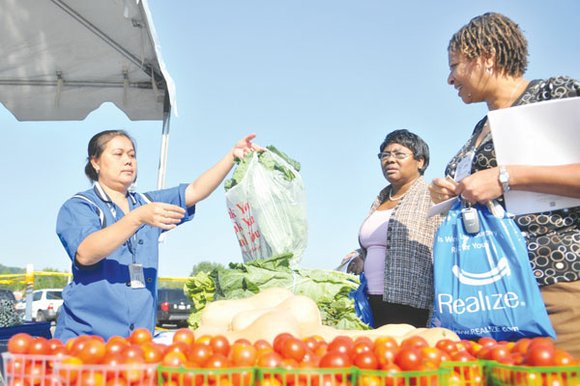 Frank Green is 54 years old and is well aware of the potential health challenges he faces. He knows that he is more likely to suffer from diabetes, hypertension, heart trouble and high cholesterol than men of other races his age, so when he heard about the 10th Annual "Take a Loved One to the Doctor Day" at Providence Hospital in Northeast on Fri., Sept. 30, he decided to attend.
"I wanted to get a better perspective on my health and I wanted to meet other people in the community," Green lives in Northeast and is a fan radio personality Tom Joyner who launched the health event a decade ago.
"I am glad that I came today," said Green. "I was checked for my blood pressure and cholesterol and I seem to be okay."
Green joined hundreds of people who visited booths on a wide range of health issues such as Alzheimer's disease, breast-feeding, HIV testing, prostate screening and reconstructive surgery. There was a booth for flu shots and one where a pharmacist answered questions about medications. There also were booths that distributed information on the changes in the health care system pushed by President Obama. The health care information system was beneficial to Wanda Joseph.
"I came here to get all of the information that I could," Joseph, 64, said. "I do not have any health insurance so I need to know what is out there for me." Debbie Galiber, a salesperson at Radio One in Lanham, Md., has worked with "Take a Loved One to the Doctor Day" event for several years. She said the purpose is for African Americans to become more health conscious.
"Tom Joyner encourages people to take care of themselves and to see a doctor," she said. "In some instances, because people participated, lives have been saved." The "Take a Loved One to the Doctor Day" event also took place at the Prince George's Hospital in Cheverly, Md. TV One news host Roland Martin attended the event.