Black Males Still Highly Impacted by Joblessness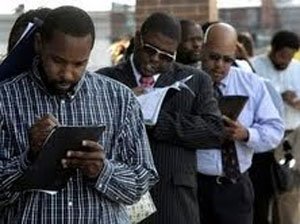 African-American males continue to be adversely affected when it comes to hiring, even though employers have added an average of 72,000 jobs in the past five months.
Currently, unemployment among African Americans (in general) hovers at 16.8 percent -- the highest since 1984 -- and according to an Economic Policy Institute study, racial bias figures prominently.
The study also points to employer discrimination as being "the only convincing reason" black males remain underrepresented in high-paying jobs.
"Certainly [racial discrimination] is part of it," said Hilary Shelton, director of advocacy for the Washington, D.C. bureau of the NAACP. "The residuals of old school employment discrimination are alive and well, meaning that's one thing black males in particular still have to contend with."
But Shelton, who said the realities of joblessness among blacks is worst than statistical reports, added the issue has less to do with race than with levels and education and training opportunities.
He said that aside from hosting a series of job fairs and other initiatives aimed at creating employment, the NAACP is also working with the Obama administration to get the president's jobs act passed.
In the meantime, the national unemployment rate has remained at 9.1 percent for the third consecutive month.