The Crazy Life of the Rev. Joseph Lowery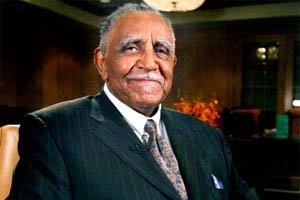 The Rev. Joseph Lowery is a civil rights icon.
He participated in all of the epic civil rights battles of his day, including the Montgomery, Ala. bus boycott, the violent showdown with "Bull" Connor in Birmingham, the Selma-to-Montgomery March and the famous 1963 March on Washington for Jobs and Justice. He was a co-founder of the Southern Christian Leadership Conference (SCLC) with Dr. Martin Luther King, Jr., the reverends Ralph Abernathy, Fred Shuttlesworth and others.
Lowery presided over the Atlanta-based SCLC from 1977-1997, a tenure as long as the combined time of his two predecessors, Dr. King and Abernathy, and longer than the combined service of all five presidents who succeeded him.
On Sunday ((Oct. 9), a star-studded gala was held at the Atlanta Symphony Hall to celebrate Lowery's 90th birthday, which was Thursday, Oct. 6. Fellow civil rights icons C.T. Vivian, Stevie Wonder, Jennifer Holiday, the Blind Boys of Alabama and others participated in the celebration.
Joseph Echols Lowery, who was born October 6, 1921 in Huntsville, Ala., always jokes that one has to be a little crazy to practice nonviolence in the face of violence and brutality - but it's what Lowery calls "good crazy."
President Barack Obama discussed the concept last month in his dinner speech before the Congressional Black Caucus.
"A few years back, Dr. Lowery and I were together at Brown Chapel A.M.E. Church in Selma," Obama recounted. "... And Dr. Lowery stood up in the pulpit and told the congregation the story of Shadrach and Meshach and Abednego in the fiery furnace. You know the story - it's about three young men bold enough to stand up for God, even if it meant being thrown in a furnace. And they survived because of their faith, and because God showed up in that furnace with them.
"Now, Dr. Lowery said that those three young men were a little bit crazy. But there's a difference, he said, between good crazy and bad crazy. Those boys, he said, were 'good crazy.' At the time, I was running for president - it was early in the campaign. Nobody gave me much of a chance. He turned to me from the pulpit, and indicated that someone like me running for president - well, that was crazy. But he supposed it was good crazy."
Without the 1965 Selma-to-Montgomery Voting Rights March that originated at Brown Chapel in Selma, Barack Obama would not be in the White House, a fact the president freely acknowledges.
As much as President Obama has lauded Lowery, from selecting him to deliver the benediction at his inauguration to awarding him the Presidential Medal of Freedom, the highest civilian award in the nation, that's not where Lowery made his greatest contribution. His greatest impact was breaking down racial barriers in the Deep South and giving African-Americans hope, even hope that one day an African-American family would live in the White House.
I know that from personal experience. Growing up Black in Tuscaloosa, Ala. during the 1950s and early 1960s meant riding in the "colored" section at the back of the bus. It meant drinking from separate water fountains and using "colored" restrooms. America's version of apartheid didn't allow African-Americans -actually, we called ourselves Negroes back then - to try on clothes in department stores or eat in the same restaurants as Whites. A decade after Brown v. Board of Education, we attended separate schools and lived in different neighborhoods.