Turner Construction to Celebrate Industry Pioneer During MLK Dedication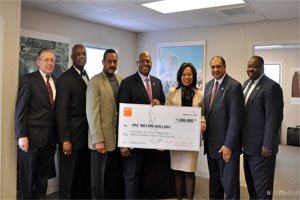 WASHINGTON, DC - Turner Construction Company (TCC), the lead contractor for the team responsible for designing and building the Martin Luther King Jr. National Memorial, will pay tribute to Hilton O. Smith, TCC's senior vice president for community affairs, during the Memorial's dedication service on Sunday, Oct. 16. President Barack Obama will speak at historic ceremony where Smith will receive recognition from TCC as a Lifetime Pioneer.
MTTG Joint Venture (comprised of TCC, McKissack & McKissack, Tompkins Builders and Gilford Corporation) was selected as the architect and builder for the Memorial, which is located on the National Mall.
"Our collective strength, experience and track record, as the premier builder in the nation, helped convince the Dr. Martin Luther King, Jr. Memorial Foundation Board of Directors that Turner should be the contractor of choice," Smith said on how TCC was selected as lead contractor. "Our experience building projects on the Mall weighed heavily in our favor."
Throughout his illustrious career, Smith has spearheaded corporate efforts to award more than $19 billion in contracts to minority and women-owned businesses.
"Certainly, our history of supporting and working with minority and women-owned business enterprises was a major factor," said Smith. "Overall, we are blessed to have had the opportunity to construct the renowned Dr. Martin Luther King, Jr. Memorial."
Smith has been invited by the MLK Foundation as a VIP to be seated in the forecourt to witness the dedication ceremony, which is expected to draw some 50,000 attendees from across the country.