The Washington Informer Turns 47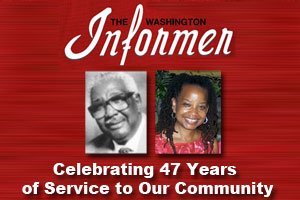 The Washington Informer, an award-winning newspaper serving the metropolitan Washington region, will turn 47 on October 16, 2011, making it one of the oldest continuously published African American newspapers in the U.S.
"This is not a landmark year, but it is a significant milestone for The Washington Informer that seems to be growing stronger every year," said Washington Informer Publisher Denise Rolark Barnes.
Founded by the late civil rights activist, Dr. Calvin W. Rolark on October 16, 1964, the Informer was started to inform District residents about salient issues that pertained to the black community. Dr. Rolark also wanted to offer a publication that would instill a sense of pride and camaraderie among readers. Its mission is to provide comprehensive news coverage with an African American perspective. Today, Publisher Denise Rolark Barnes charts the direction of the publication using the same philosophy she learned by her father's side: give voice to the voiceless, uplift and educate the black community. "My father had the vision to start The Washington Informer early in his career. With the support, both financial and inspirational, from his wife, Wilhelmina J. Rolark, he established an institution that I hope will stand the test of time for generations to come," Rolark Barnes said. "This anniversary is the Washington Informer Newspaper Company's opportunity to say 'thank you' to our readers and advertisers who have supported us over the past 46 years. Without them and the contributions they make to our community, there would be nothing for the Informer to report," she said Barnes has also moved the paper into the 21st century by including an online presence. The Washington Informer currently enjoys 25,000 unique visitors to its web site on a weekly basis. "While this anniversary gives us an opportunity to see from where we have come and how we got there; it also forces us to look towards the future. Our presence online has allowed us to become a global publication, reaching readers all over the world. And, with that comes a greater ability to tell the untold story or address the distorted perceptions about Africans or people of color throughout the Diaspora," Rolark Barnes said. In the spirit of community, one of tenets on which the paper was founded, the Washington Informer sponsors the Washington Informer City-Wide Spelling Bee in which nearly 3,000 D.C. students participate annually. The paper also provides an opportunity for students to develop journalistic skills through its sponsorship of elementary and secondary school newspaper projects, and it provides opportunities through internships and writing competitions for high school and college students interested in pursuing careers in journalism.
For the past six years, Washington Informer staff writers have related their stories that appear in the newspaper to viewers of the newspaper's bi-weekly television show, Washington Informer News, which airs on DCTV, the District's public access channels. Barnes also hosts a bi-weekly program with Washington area women journalists called Let's Talk, the title taken from the weekly column penned by Dr. Rolark before he passed in 1994.
Most recently, in partnership with Radio One and Sheila Stewart, public affairs director, a monthly radio show featuring news from The Washington Informer will begin airing this October.
"None of this would be possible without a dedicated staff who shares the vision of The Washington Informer," Rolark Barnes said. "It begins with us. We have to believe in ourselves first before we can convince others - our readers and advertisers - to believe enough in us to do business with us, as well."
"I know that I am truly blessed to have such great people to work with," she said. Since 1969, the Washington Informer has maintained memberships with the National Newspaper Publishers Association, the oldest trade association of African-American owned newspapers in the country. It is also a member of several other trade associations include the Maryland, Delaware, DC Press Association, and Association of Free Community Papers (AFCP), the Mid-Atlantic Community Papers Association (MACPA) and the Independent Free Papers Association.