Union Addresses Joblessness Among People of Color
James Wright | 10/12/2011, 12:43 p.m.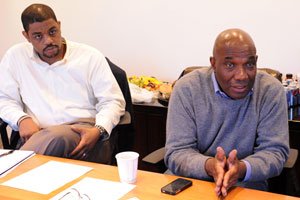 Clarissa Martinez, the director of Immigration Campaigns for the National Council of La Raza, a leading Latino civil rights group, said upward mobility, the belief that hard work will elevate ones social and financial status, is "evaporating."
"People of color, particularly Latinos, are facing issues such as a fear of hiring Latino citizens because of fear of the Immigration Service," Martinez said. "Latinos are facing a high foreclosure rate in housing and fewer job opportunities."
Martinez noted that 39.5 percent of the domestic workers are Latino.
Brandon Davis, SEIU's national political director, said that people of color need to be more politically active to make sure that there concerns about the job market are heard.
"There is an unprecedented attack on voting rights," Davis said. "In 2008, we had a big jump in what we would call surge voters, those voting for the first time. However, in 2010, the politics in the country was divisive and hateful and the public dialogue did not focus on getting the economy going. That is what Democrats and Republicans need to talk about."
Medina said that people of color need to be more proactive in the political system in order to deal with unemployment.
"When people of color or poor people get involved, America is the better for it," he said.