Gray Urges Participation in Oct. 15 Rally, March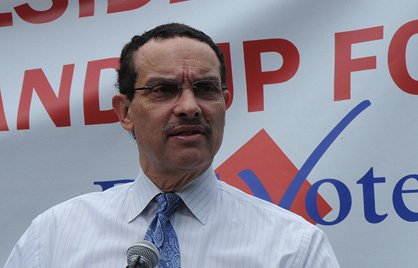 The D.C. Full Democracy Freedom Rally and March, organized to call attention to the District's pursuit for self-determination, takes place at 9:30 a.m. on Sat., Oct. 15 at Freedom Plaza, and Mayor Vincent urges District residents to participate.
Gray and organizers of the rally and march are also calling on President Barack Obama and Congress to support the disenfranchised citizens of the District of Columbia and to end taxation without representation.
"It is very fitting that we hold this important rally and march on this date," said Mayor Gray. "What we are fighting for today -- democracy and equality -- are the same principles that Dr. King spent his life fighting for more than 50 years ago. In fact, Dr. King himself called for Congress to bring full democracy to the residents of the District of Columbia. This rally and march will continue his fight for justice."
Both gatherings, which are expected to include participation of other local dignitaries and civil rights activists, begin at the Plaza, 14thSt. and Pennsylvania Ave. and merge with the Rev. Al Sharpton's National Action Network March for Jobs and Justice at the Sylvan Theater, 15th St. and Independence Ave. in Southwest. Marchers will then proceed to the site of the King Memorial on the National Mall.
"In light of the continued push for jobs in this country and the rejection of President Obama's jobs bill, it is imperative now more than ever that we march for jobs and justice," said Sharpton. "From Wall Street to Washington, Americans are tired of the economic despair and joblessness."