Tom Joyner Presents Checks to Hurricane Irene Victims
WI Staff | 10/18/2011, 9:41 p.m.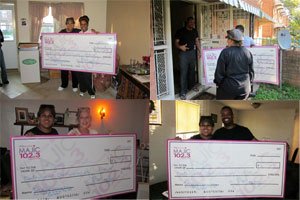 Hurricane Irene affected many residents in the Washington, DC Metropolitan Area and the Tom Joyner Morning Show supports local restoration efforts.
Washington, DC October 17, 2011 -- Hurricane Irene's wrath included downed trees and other wind damage totaling about $5 billion in personal claims, while flood damage totaled about $2 billion in claims, according to a statement released by the Consumer Federation of America. Tom Joyner and the My Majic 102.3 staff delivered checks to the Tom Joyner Morning Show Hurricane Irene Help Contest winners on Saturday, October 15th to support local residential restoration efforts.
Qualifiers submitted stories of their disaster damages along with supporting photographs, repair estimates and insurance claims. Each submission was carefully reviewed and damages were assessed to determine the financial need of each household. The Tom Joyner Morning Show & My Majic 102.3 staff surprised each winner with a check presentation at their residence from 8:00 am to 11:00 am on Saturday, October 15, 2011.
Roslyn Williams' Story
Roslyn's residence suffered severe roof damage from Hurricane Irene coupled with increasing water damage after each rainfall. Since the hurricane, a tree now leans on the extension of her home which is identified as one of the main leak sources.
The Tom Joyner Morning Show & My Majic 102.3 staff surprised Rosalyn Williams with a check early Saturday morning. Rosalyn peaked through her screen door and greeted the staff with tears of joy and relief. Her prayers for help have been answered since the Hurricane Irene disaster crisis began.
Karen Chichester's Story
Karen's Hurricane Irene disaster experience includes foundation, roof and widow damages causing a true financial hardship for her household. She submitted numerous denied requests to have a giant tree removed from the front of her home. Hurricane Irene's aggressive wind force weakened its base and caused the tree to slam into her home. She was recently laid off her job and no longer has income to continue clean-up efforts.
The My Majic 102.3 & Tom Joyner Morning Show staff took time to hear the Chichester family describe the horrific chain of events resulting from Hurricane Irene's wrath. Mr. Chichester said, "I just want to thank the Tom Joyner Morning Show & Majic 102.3 for the support. The help couldn't come at a better time. My wife has been so worried and nervous."
Rev. Dr. S. Isaiah Harvin's Story
Rev. Dr. Harvin's story resembled the stories told by numerous Washington, DC Metropolitan Area residents. Hurricane Irene caused severe leaks and water damages around his home. The east coast earthquake added "insult to injury" when the foundation of the Harvin residence shook and caused wider cracks in the already damaged bricks supporting the foundation. Rev. Dr. Harvin contacted FEMA who provided him with a referral to a local organization appointed to serve the local residence with disaster relief. Unfortunately, he was denied disaster assistance as a result of earning $350 over the income qualification guidelines.
The Tom Joyner Morning Show & My Majic 102.3 staff greeted an overjoyed Rev. Dr. Harvin with a Grand Prize check to assist with reconstruction efforts. He gave the staff a warm embrace and welcomed everyone into his home for the check presentation. Rev. Dr. Harvin's story truly touched the staff when he shared his busy schedule as a religious and community leader. He dedicates his entire life to serve others in his community and it was with great pleasure for the Tom Joyner Morning Show & My Majic 102.3 to assist him.