White Candidate Set to Battle for Black Votes
Nnpa | 10/20/2011, 10:41 a.m.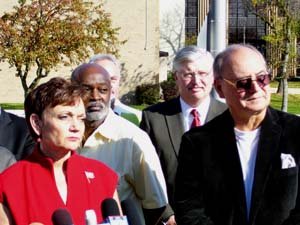 IBlack population, according to the U.S. Census Bureau.
"I realize that the population in the Second Congressional District is half Black and historically has supported Jackson throughout his tenure," explained Halvorson. "But I don't think race will matter to the voters who are hurting for jobs and economic growth in their district. They want a congressman who can deliver and is not preoccupied with ethnical problems."
Jackson, son of the Rev. Jesse Jackson, founder of the Chicago-based civil rights organization Rainbow/PUSH Coalition, earlier this year publically admitted to having a one-time affair with a white woman in Washington, D.C. He was also suspected by the U.S. Attorney's Office, but never charged, with offering former Governor Rod Blagojevich a campaign contribution in exchange for him appointing him to President Barack Obama's old U.S. Senate seat. Jackson has maintained that he never offered Blagojevich anything nor did he authorize anyone else to make offers to the governor for a Senate appointment. Ultimately, Blagojevich appointed former Attorney General Roland Burris to the seat, after U.S. Rep. Danny K. Davis (D-IL) turned down the appointment.
Jackson's wife, Sandi, is a Chicago alderman representing the 7th Ward, which is also part of her husband's congressional district. Halvorson spent one term representing the 11th Congressional District before she lost to Republican Adam Kinzinger in the 2010 election. While serving as a State Senator the one-term congresswoman was mentored by retired Senate President Emil Jones Jr. (D-Chicago), who ran against Jackson and lost in 1995. The Second District, which borders the 11th District, has been redrawn since the last election. And it begins at 57th Street and Lake Shore Drive (Museum of Science & Industry) and stretches to the south suburbs. Among the south suburbs located in Jackson's district whose population is majority Black, are Riverdale, Dolton, Harvey, Markham, Chicago Heights, Ford Heights, and Robbins.
Rather than answer allegations by Halvorson, Jackson said he would let the voters decide if he deserves another term. He has not yet officially announced he is running for re-election but is expected to do so this month. "I've secured more than $900 million in federal investments in the Second Congressional District - more than any other congressman in the state during that period," he said. "I've also worked with local communities to secure $700 million in private funds to build a new airport that will create 15,000 new jobs." One community activist cautioned those who think Jackson would win re-election with no problem.
"Jackson has some baggage that could come back to hurt him so it is not a safe bet he will easily win re-election," said Neal Foster, 59. "(But) I don't see Halvorson or any other white candidate beating Jackson without the support of Blacks or unless another Black candidate were to enter the race and split the Black vote." One Black, elected official who will not be running for Congress is Alderman Anthony Beale, whose ninth ward is within Jackson's district. The chairman of the City Council's Transportation Committee said he is happy representing the 9th Ward in City Hall and has his hands full working to boost economic development, affordable housing and lowering crime in his far South Side ward, which includes the Roseland community. Beale's name had surfaced on the rumor mill as potential Jackson opponent.
"I am absolutely not interested in running for that office," Beale told the Crusader. He added that he is not yet ready to make an endorsement to Jackson or Halvorson because "I have not met with them yet. But I do know that whoever I support it would have to be someone who has the ninth ward's best interest at heart." Absent from Halvorson's Oct. 7 news conference in Chicago Heights where she announced her candidacy were any Democratic elected officials.
"My campaign is not about politics but helping the residents of the Second Congressional District," said Halvorson, who currently works as a lobbyist. "I do not need the heavy political hitters to stand here with me as long as I have the support of the people."
Prior to serving in Congress, Halvorson served as clerk for the township of Crete, a south suburb in Jackson's district, and a State Senator where she was majority leader.