Rev. Harkins to Lead DNC Faith Outreach Efforts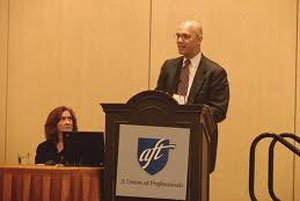 The Rev. Derrick Harkins has been appointed to head faith outreach for the Democratic National Committee (DNC). In his latest capacity, Harkins, 52, pastor of Nineteenth Street Baptist Church in D.C., takes over the helm as the presidential campaigns pick up more speed. In doing so, the prominent evangelical activist will be instrumental shoring up support and turnout among black voters and white evangelicals who -- over past decades -- have voted largely along Republican Party lines.
During an interview, Harkins noted that while he is realigning his activities, he does not plan to step down from his pulpit.
"My intent is to engage and reach out to people of faith from all walks of life and backgrounds and to make sure that [the party] understands the issues and values that religious Americans are passionate about," Harkins said.
President Barack Obama and his family have worshipped at Harkins' church several times, and according to reports, the president has already made inroads among conservative white Christian voters and Catholics.