D.C. Hall of Fame Honors Jack Olender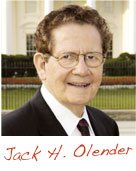 WASHINGTON, D.C. - The Washington, D.C. Hall of Fame Society (DCHOF) is renaming its Leadership Academy in honor of DCHOF inductee, Jack H. Olender for his on-going support helping students embark on pathways of successful careers. Olender is widely revered as one of the country's leading malpractice lawyers.
The ceremony is scheduled to take place during the Leadership Academy's high school mentor program on Oct. 26 at the Charles Sumner School, 1201 17th St. in Northwest. The program runs from 10 a.m. to 2 p.m.
The DCHOF Leadership Academy, started in 2008, provides opportunities for District high school students to come out and have one-on-one conversations, with noted, well accomplished individuals who have been inducted into the Washington DC Hall of Fame. The conversations are focused, guiding the students towards their chosen career paths or interests.
"Sharing the history and accomplishments of our Hall of Famers with our youth is an ongoing mentoring program that will impact the lives of our students in the future", said Dr. Janette Hoston Harris, founder of the program and District of Columbia city historian.
The Leadership Academy is administered and supported by the DCHOF, where each year during its gala local residents nominated and selected from various categories and professions, are officially inducted into the D.C. Hall of Fame based upon significant contributions to the life of the District of Columbia.
After 11 years, there are more than 100 members, and in addition to Olender, other well-known inductees include John Hechinger, Sr. (posthumous), Maureen Bunyan, Dorothy Pierce McSweeny, Peggy Cooper Cafritz, the Honorable Linda W. Cropp, Dr. Billy Taylor (deceased) and Barry Rand.