Could the Death of "Brother Leader" Spell Trouble for the "Brothas?"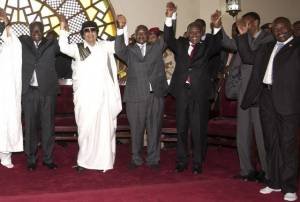 He probably won't be remembered in the vein of Marcus Garvey, Kwame Nkrumah, or Malcolm X, but many say Moammar Gaddafi's quest for a unified Africa was crucial to the Pan-African movement in the 21st century.
Gaddafi, who called himself "brother leader" was killed recently by NATO forces to the relief of many in the western world and in Libya itself. But for those that wanted to see a Black Africa emerge as one, the leaders' death may spell trouble for the movement that was still trying to gain support.
At the start of his reign, the long-time dictator called for a united Arab world. But upon watching its failure, he turned his efforts to what many call "Pan-Africanism," a socio-economic movement that calls for the unification and independence of Africa in terms of culture, economics, and politics.
"I had been crying slogans of Arab Unity and brandishing standard of Arab nationalism for 40 years, but it was not realized. That means that I was talking in the desert," Gaddafi said on Arab television in 1998, as reported by Reuters. "I have no more time to lose talking with Arabs...I am returning back to realism...I now talk about Pan-Africanism and African Unity," he said.
"The Arab world is finished...Africa is a paradise...and it is full of natural resources like water, uranium, cobalt, iron, manganese."
Gaddafi implemented changes in oil-rich Libya to reflect his new ideology, committed to creating a "Black country" in the Arab dominated nation. He switched television programs from Arab themed to African, changed his attire to brandish a map of Africa, and called for Libyans to only marry Black people.
He backed up his cultural revolution with money and political support to sub-Saharan African countries, particularly struggling nations like Niger and Mali, while providing funding for several controversial military campaigns. Gaddafi also contributed to other Black empowerment organizations across the Diaspora, including some in the United States, like the Nation of Islam.
His most concrete legacy in Pan-Africanism however, may be his advocacy for the creation of a United States of Africa, a federation of all African nations (and potentially extended Caribbean islands with larger African populations) united by a singular monetary, passport, and military system.
If successful, a unified Africa would be one of the biggest countries in the world, third only to China and India in population.
Currently there is a looser alliance of African nations, the African Union, which Gaddafi helped fund in its creation in 2002. He spearheaded the more moderate organization in 2009, but used his position to advocate for a federated Africa.
In his death, some say the movement may die.
Charles Quist-Adade, a professor at Kwantlen Polytechnic, told a Canadian radio station that some African leaders feel the attack on Libya was to stop the creation of a United Africa, a move that people, such as Gaddafi believed would become a superpower once it was completed.
"It was another attempt by the West to simply cut the head off the move to a Pan-African union government."
Gaddafi, who reportedly contributed 25 percent to the African Union's budget, has been a controversial figure in Africa, and support for a federated Africa has been uneven at best.
"The African Union will have more time to implement its programs now, because Colonel Gaddafi spent a lot of time discussing a unity government for Africa that was impossible to implement now," said South African President Jacob Zuma.
"He was in a hurry for this, possibly because he wanted to head it up himself," Zuma said. "I had arguments with him about it several times. The African Union will work better now without his delaying it and with some members no longer feeling as intimidated by him as they did."
Others don't see the leader's death as a new dawn for Africa.
"We are the 1 percent who are not celebrating," said Salim Abdul, a worker at a mosque funded by Gaddafi in an article by the New York Times. "He loved Uganda. His death means everything comes to an end."