AARP Food Drive Fights Hunger Among D.C.'s Elderly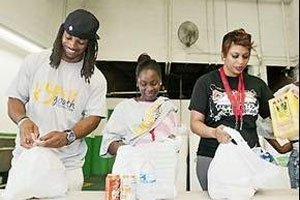 While hunger can impact anyone's health and well-being negatively, senior citizens are particularly vulnerable. According to the U.S. Department of Agriculture (USDA), it's not uncommon for older adults to go to bed hungry. In addition, the elderly, many who live on fixed incomes, often end up choosing between paying for their medicine and buying food.
To that end, Pat Jones, associate director for the D.C. chapter of the American Association of Retired Persons (AARP), said that's why projects such as its Oct. 14 citywide food drive are important in helping maintain nutrition among low-income and disadvantages seniors.
"About one-third of the District's elderly [ages 50 and up] "are at risk of going hungry or they are experiencing it now, and that's unacceptable," Jones said.
She said the recent food drive was "very successful" having employed the assistance of several volunteers from various organizations who picked up and distributed food to the Capital Area Food Bank.
Food bank workers, in turn, distributed the items to pantries all over the District.
"This was our third annual food drive and we had 109 collection stations, including [at least] one in each of the eight wards," Jones said. "We also appreciated Safeway and Giant that agreed to allow us to pick up food at their stores."
The USDA disclosed in a 2010 survey that hunger, or low food insecurity, occurs when one or more people in a household experiences hunger over the course of a year because they couldn't afford enough food.
The agency, which also monitors the extent and severity of hunger in this country, reported that Wards 7 and 8 harbor the District's highest poverty rates and that of the 43 full-service grocery stores, four are in Ward 7 and three in Ward 8. In comparison to Ward 3, which has the city's highest income bracket, has 11 full-service grocery stores.
Page Crosland, spokesperson for the Capital Area Food Bank, said because of budget woes, the District threatened last month to eliminate its portion of the funding for the seniors food program. The program normally accommodates meals for some 6,600 residents - many of them seniors - and its closure would have left them to seek out other resources to avert hunger.
In the past, the seniors food program has been supported equally by both the federal government and the D.C. Department of Health (DOH). However, after the city indicated it could no longer make provisions, the Greater Washington Urban League agreed to help until the end of December.
"We met with the city to talk about helping to keep the program going, and our CEO said we would do whatever it takes to keep it alive," Crosland said. "We are now trying to find out the cost for us to run the program, and if we can afford it, to do so for less than the city."
Crosland said that otherwise, the program, which allows seniors to continue to receive a free bag of groceries each month, is being analyzed to determine exact operational costs.