Howard (Bisons) 35, North Carolina A&T (Aggies) 28.(OT)
10/26/2011, 12:44 a.m.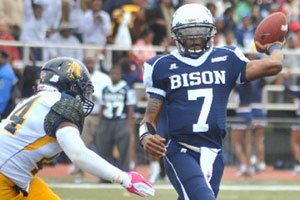 Howard pulled out a thrilling 35-28 win over North Carolina A&T in a Mid-Eastern Athletic Conference game before an overflow homecoming crowd at Greene Stadium on Sat.Oct.22.
Howard led 13-0 at halftime, then came 30 minutes of homecoming activities.
The Aggies took the lead 14-13, at the end of the third quarter.
Both teams scored two touchdowns in the fourth quarter, but it was in overtime that Bison Terrance Leffall scored from three yards to give the Bison their second win in the last six homecoming games.
{besps}howard-hc-2011|width=525|height=350{/besps}