NOA Gallery: A Steady Anchor in a Changing Community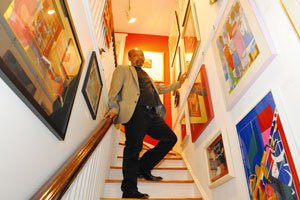 Gentrification has changed the neighborhood, and brought an influx of new residents. Little had an exhibition that he marketed through his neighborhood list-serve of which two-thirds are white. To his surprise 80 percent of the people who came were white.
However, Little noted, "Just because the neighborhood changed in color doesn't mean that all of these people know about art. For example [at one exhibition] I had all these European artists' works hanging on the wall. This white guy comes over to me and says, 'Where is the white section?' which surprised me. Evidently he had made up in his mind that since I was black, what he was looking at were black artists. I immediately took him to a Norman Rockwell and an Andy Warhol and said to him, 'These artists are not black.' I also pointed out black artists that were in the show, but two-thirds of the artists were white."
NOA Gallery has always shown European artists, but its focus has been and continues to be black art. At any given time you can find art from the Asia, South America and Africa in NOA Gallery.
NOA Gallery is adapting and responding to the emergent trends in the ever-changing Bloomingdale neighborhood. At the age of 60, Little is not about to reinvent himself for anyone. One thing is constant: His love for the arts. He says that he and the gallery are what they are, and anyone who wants to come in is welcome.
"You might be surprised at how much we might think alike if you have an appreciation for the arts," Little said..