Panel Addresses Ways the Black Church Can Regain its Social, Political Power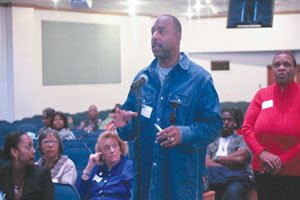 Ways to re-establish the Black church's legacy of promoting political and social change was the focus of a symposium hosted by Greater Mt. Calvary Holy Church in Northeast, Sat., Oct. 15, 2011. A panel moderated by Kelly Williams, CEO and host of Black Politics Today, featured co-moderators and gospel radio personality Winston Chaney, attorney Danee Gaines, and award-winning journalist and author Dr. Barbara Reynolds.
Gaines questioned whether church affiliation matters when choosing elected officials and where the church should start to look for leaders to run for elected office.
"The challenge is that we have lost the value of our influence and we have got to bring it back," said Adwoa Ansah, CEO and president of Faith Link, Inc., a member of the panel.
"The church was once the nucleus of our community and you could not become an elected official without going through a pastor. We have to get back to that ... we forget about the power we have," Ansah said.
Other panelists included Dr. Estrelda Alexander, president of the William Seymour Education Foundation, Rev. Kip Banks, Sr., senior pastor of East Washington Heights Baptist Church; D. Paul Montiero, associate director for the White House Office of Public Engagement; and Zina C. Pierre, president and CEO of the Washington Linkage Group, Inc.
The panelists agreed on the lack of advocacy in most Black churches and the need to re-establish the church in the community as the epicenter for change.
Rev. Banks said, "We know about marching, protesting, racism, and jobs, but when it comes to climate change and immigration policies ... [there is a] lack of unity among churches."
Montiero addressed the power of coalition building as an effective tool to mobilize people around an issue or movement. "It's easy to dismiss a black pastor talking about capital punishment," he said, "but it's much harder to dismiss a black pastor talking about capital punishment standing next to a Jewish Rabbi and Catholic priest who all see something immoral about sentencing someone to dying."
Dr. Estrelda suggested that pastors teach congregants how public policy affects their wallet. She said attending redistricting hearings does matter when the person representing the Black community has been replaced with someone who does not know the issues important to the Black community.
It also was suggested that churches begin to engage themselves in political education to know how much can be done without jeopardizing their non-profit tax exempt status.
Thomas Wright, 52, of Northwest, asked the panelists how the Black church should get involved in local politics.
"We know that housing, jobs and health care are all issues that impact our community so we need to be out there right along with the bloggers that are naysayers and fight against those issues," Pierre said. "We need to start investing our time in attending those [local] meetings in order to benefit our kids, our family, and our future."
One of the panelists suggested that pastors educate themselves on various aspects of the tax code that allows non-profits to engage in advocacy and lobbying.
Archbishop Alfred A. Owens, Jr., senior pastor of Greater Mt. Calvary Holy Church challenged all participants in the symposium, "to renew our focus to serve as advocates and civil rights activists for our communities. This can be done by enlightening our congregations about those issues that affect us the most and the impact it will have on our future."