R&B Sensation 'Joe' on Music Industry, His Latest Project -- and, Love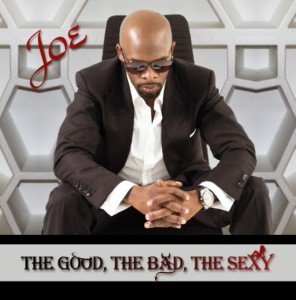 As the son of two preachers, Joe spent much time in church singing, playing guitar and even directing the choir.
Although he was influenced early on by gospel stars like the Winans, Commissioned and Vanessa Bell Armstrong, Joe grew to love soul legends Stevie Wonder and Marvin Gaye, as well as more contemporary stars such as Bobby Brown and Keith Sweat.
After graduating from high school, Joe continued to sing and write music while working occasional temporary jobs. Finally, he traveled to New Jersey, hoping to make connections in the music industry. It was while working at a gospel record store and continuing his music education through a local church, that he met producer Vincent Herbert and recorded a three-song demo tape.
That led to a contract with Polygram Records, and in 1993 Joe released his debut album, "Everything."
Joe also appeared on the soundtrack to the movie, "Don't Be a Menace to South Central While Drinking Your Juice in the Hood," before moving to Jive/RCA for his second album, 1997's "All That I Am."
The single, "Don't Wanna Be a Player," hit the Top 40, thanks to its exposure on the soundtrack of "Booty Call."
While "All That I Am" went platinum, Joe remixed a duet by Tina Turner and Barry White, "Never in Your Dreams," and also produced and wrote for the debut albums of Ideal and Deja Groove.
In 1999, he appeared on Mariah Carey's single, "Thank God I Found You" (from "Rainbow") and caught yet another break from a soundtrack appearance -- this time with "I Wanna Know," from the movie, "The Wood."
Released as a single that fall, "I Wanna Know" languished in the lower reaches of the charts, until suddenly catching fire in early 2000. The single reached the R&B Top Five in March, setting the stage for Joe's next album, the multi-platinum, "My Name Is Joe."
Despite having yet to achieve that level of sales again, Joe's releases throughout the remainder of the decade - "Better Days (2001)", "And Then... (2003)", "Ain't Nothin' Like Me (2007)", "Joe
Thomas, New Man (2008)", and "Signature (2009)" -- were solid full-lengths.
Each one reached the Top 10 of the R&B chart, with his first release in 2010 being "The Good, The Bad, The Sexy," which featured four productions from Brandon "B.A.M." Alexander.