Gray Launches New interactive Green Website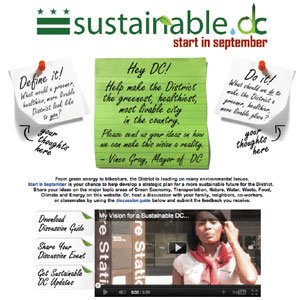 Want a greener city? Here's your chance to voice your ideas and get involved.
On Sept. 1, Mayor Vincent Gray, the D.C. Office of Planning (OP) in partnership with the District Department of the Environment (DDOE) launched a new city-wide initiative and website, sustainable.dc.gov, to mine information from citizens in an effort to create a sustainability strategy for the city.
The initiative is called "Start in September." The intent is to kick off the public engagement and encourage residents to give the city green and sustainable ideas. The goal is to make Washington, D.C., the model for sustainability in the country.
"I want to make the District of Columbia the most sustainable city in America [and] we will be getting a broad range of creative ideas from our residents - truly a group brainstorming session occurring across our city."
Traditional and new-media outreach tools will be used to engage the public during the information gathering process.
"Beginning in September, we are rolling out a website where there is information to serve as a guide for folks that are interested in gathering friends family colleagues or associations to discuss what sustainability means, what it would take to become a sustainable green city, what it would mean to individuals to have a sustainable city, and what it means to be greener, healthier and more livable," said Christophe A. G. Tulou, DDOE director.
The website features a discussion guide with guidelines for implementing public meetings as well as a place for residents to submit ideas. Additional website features include a calendar of events, a portal to sign up for regular updates and polling opportunities.
According to Tulou, the information gathering process is expected to last six months and will be an ongoing community dialog. Meanwhile, this initiative builds off of the mayor's interest in creating a sustainability project for all of the district.
"It's our way of reaching out to all of the citizens of the District to participate in this. It's about livability, healthiness and competitiveness as a city," Tulou said.
"We're finding increasingly, that folks are making decisions about where to locate their businesses, where to move themselves and where to visit, based on the energy and environmental performance of the city that they're visiting, so the implications are much broader in terms of economic development."
Recently, Gray convened members of his cabinet to help create a sustainability plan, and information that is culled from the website will be used in the process.
Ambitious goals will be established for energy and climate, water, ecology , waste, food, and transportation. Tulou said the sustainability program also includes urban farming, land use, and natural environment (fish and wildlife habitat) components.
"All of these things have a huge impact on the way we live," he said.
The District invites active collaboration by residents, business owners and others to help develop a vision for sustainability.
For more information on the "Start in September" initiative visit www.sustainable.dc.gov.