Protestors Demand Fair Hiring Practices on St. Elizabeth's Project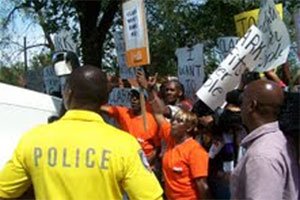 Hundreds of angry demonstrators blocked the entrance to the Department of Homeland Security (DHS) construction site in Southeast Wed., Aug. 31, where they protested the lack of District residents hired to work there.
The crowd blocked trucks and yelled at security officers in an attempt to call attention to the their concerns over the number of Ward 8 residents who have been hired on the $3.4 billion project which broke ground more than 18 months ago.
Clark Construction, one of several general contractors on the site, was the focus of the demonstration led by the Labor International Union of North America (Liuna!) construction workers union. However, the company reports that it constantly hires persons through its pre-apprenticeship program and the Opportunities Center located on the St. Elizabeth's campus.
"They lie," said Ron Harris of Liuna! "We have the certified records to prove that the number of hours worked do not match the number of employees on this job. The numbers are just not adding up," he said. "You can hire 100 residents, but they may only work one hour a day. We're not going for it no more."
The crowd repeatedly chanted, "We want jobs," while waving posters and banners at security police and General Services Administration (GSA) personnel.
Many of the demonstrators revealed that they had been formerly incarcerated, but said that should not be a basis for denying them employment.
Tom Brown, a member of the Workforce Development Committee, said GSA which oversees the site, agreed to only go back three years of an applicant's criminal record. "We have hundreds of applicants who have been out of prison more than 10 or 15 years and they still can't get a job," Brown said.
The organizers also expressed concerns with Congresswoman Eleanor Holmes Norton, who has commended GSA for the number of minority contractors hired for the project, as well as the number of Ward 8 residents who have received jobs.
In a press release Norton's office issued following a meeting she held this week with Ward 8 residents, she reported that increases surrounding the number of D.C. residents employed, have been steady. Norton also claimed that 20 percent of District residents employed on the project live in Ward 8.
"On the ground right now at the DHS site, 322 of the 854 construction workers, or over 36 percent, are D.C. residents," Norton said. "To date, D.C. residents [comprise] 26 percent of the workers on-site, and have logged 256,685 hours out of 1,268,286 worked, or just over 20 percent.
"These figures are far better than is generally found for D.C. residents employed on construction sites in the District of Columbia, but we will continue working for more jobs for D.C. residents."
Brown and others believe they have evidence that totally refute Norton's finding.
"We want to help her and do her a service by showing her that we've found out something different that is certifiable," Brown said. "Let's sit down and talk and show her that the facts aren't saying one thing and she's saying another. But we just can't get her to sit down and have that conversation."