Protestors Demand Fair Hiring Practices on St. Elizabeth's Project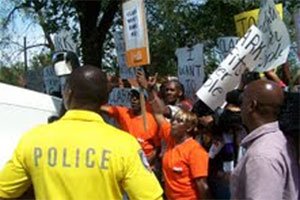 The Rev. Patrick Walker, pastor of New Macedonia Baptist Church in Southeast, said the protestors reached out to religious leaders in the area for support.
"The clergy and faith community obviously have a vested interest in employment and this community. We have to be concerned about the plight of our members," Wqalker said. "To be here in the District and to allow multi-million dollar, multi-year projects come, and people can't get jobs while we sit idly by and say nothing, is appalling."
As president of the 500-member Missionary Baptist Minister's Conference of DC and Vicinity, Walker said, "We want to be a part of the jobs coalition and stand up for what is right."
Adam Elkington, GSA spokesperson, issued a statement that said, "Since the very beginning of this project, GSA, its contractors and subcontractors have committed to increasing employment opportunities in the District of Columbia, and particularly Ward 8.
"Our data indicates that the average number of D.C. residents working on-site since the project broke ground is in excess of 25 percent, and that the percentage of total man-hours worked on the project to date by DC residents, exceeds 20 percent."
Most of the protestors aren't convinced. As several of them walked up Martin Luther King Ave., past the construction site, they pointed to the nearly half-mile long line of cars and noted that most had Virginia and Maryland tags.
"We only want fair hiring practices," Brown said. "We just want to talk about the disparities and to get a performance evaluation to address the discrepancies."
GSA temporarily moved its job assistance operation to the site of the protest, where they accepted resumes and assisted protestors competing job applications.