9/11 Anniversary Stories
WI Staff | 9/6/2011, 1:25 a.m.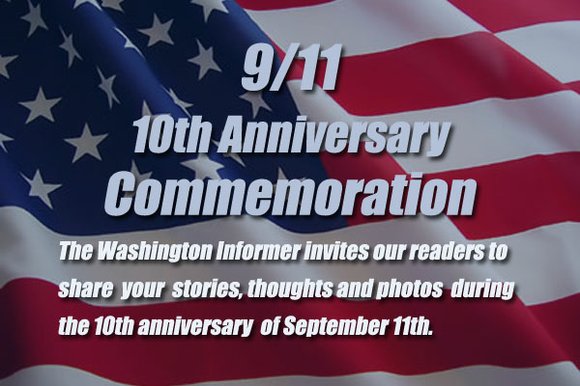 This Sunday marks the 10 anniversary of the tragic incidents of 9/11. The Washington Informer would like the opportunity to share your story with our readers from around the world. Please submit your stories, pictures etc to news@washingtoninformer.com.
These submissions will be added to the Informer's 9/11 Anniversary section below.
Thank you...
Mayor Vincent Gray: "It's the 10th anniversary and that's an important milestone. We have a number of events that are scheduled over a period of three days beginning Friday, Sept. 9 and running through the late afternoon on Sept. 11. They will include [commemorations] like the event at Leckie Elementary School that will honor the three DCPS students , three teachers and two National Geographic chaperones who were killed in the plane that was flown into the Pentagon.
"That will focus on recounting the events and talking about the eight people who were involved. But frankly, there will be an overarching theme to the [mayor's] One City mantra, called One City, One World: Peace, Tolerance, Service and Remembrance. Certainly one of the objects of this and other events is to recognize what happened that day, [as well as] to remind ourselves that we need to be ever-vigilant and that we can't take our safety and security for granted. The three days will conclude with a candlelight service that will be at First Baptist Church on 16th St. in Northwest, honoring the lives of those that were lost."
On the morning of September 11, 2001, I was leaving the former YWCA health club, at Ninth and G Streets, N.W., after a great workout. It was only days after returning from a family trip to London and South Africa. Strangely enough, it was the only international trip I had taken that I found myself
being overly defensive about the U.S. In London and throughout our travels in South Africa, folks kept asking how the American voters could have allowed George Bush to become our president. They believed he had stolen the election and we were negligent for allowing him to do so. Be that as it may, it was a criticism of all Americans, regardless of politics or race.

Anyway, the workout was perfect, and as I proceeded down Ninth Street, I noticed how beautiful a day it was. The sky was picture-perfect gorgeous. As I approached the Ninth Street Tunnel, I heard on radio that a plane had struck a tower in New York and that one was headed to the nation's capitol. I don't remember what station I was listening to, nor could I immediately decide whether to proceed home to Southeast or turn around to go pick up my sons from school in Northwest where I had previously dropped them off.

I went home and cut on the television and saw the frightening photographs from New York's World Trade Center. I also saw the photos from the Pentagon and heard another plane was headed to the White House.

I talked to my husband who told me the government was shutting down and that he was headed home. I asked about our sons, because I could not get an answer to calls made at their schools. I just knew I needed to go get them. So, I ignored his advice to stay put and headed back across town where I got stuck in traffic for nearly five hours near the Lincoln Memorial.

People were walking everywhere. Hundreds were headed across the 14th Street Bridge and as I attempted to go back home, I picked up a woman near the Wharf who was trying to make her way to the Naylor Road Subway station to meet her husband. We talked the whole way about what was happening and we shared many other stories.

When I got home, my sons and my husband were there. How the beat me back, I don't know but I was glad to see them all. The rest of the day was spent watching the news and discussing our emergency plans for the future. That was when I decided to get cell phones for my sons. I also learned that one of the sixth grade teachers at the elementary school I attended years ago was on the plane that struck the Pentagon with her students from Leckie Elementary School.

I realize how fortunate we, Americans, have been when it comes to terrorist attacks and wars, none that have been fought on American soil in years. But September 11 let me know that we are not exempt. The recent earthquake aroused the same fears that so many people around the world live with each and every day.

Denise Rolark Barnes | Publisher - The Washington Informer